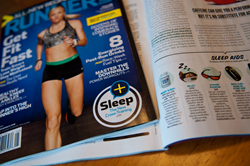 People are desperate for good sleep, but most are freaked out by the dangers and side effects of typical sleep aids
Overland Park, KS (PRWEB) June 11, 2014
Berry Sleepy – The 100% Fruit Sleep Aid has come a long way in a short time. After the product was launched out of the creators' home just 15 months ago, Berry Sleepy – The 100% Fruit Sleep Aid received its first national publicity by getting plugged in the May issue of Runner's World Magazine.
"We work hard every day and we've had steady successes, but getting in Runner's World is very exciting and a huge help in getting the word out about our healthy sleep aid," said co-founder Greg Doring.
One of the prominent magazine's feature articles discusses how quality sleep can improve running performance. Berry Sleepy is one of several products highlighted to help induce sleep.
With a circulation of around 700,000, Runner's World Magazine is by far the largest exposure the Kansas City-based health product has seen. To date, it has mostly gained customers grassroots-style from social media and word-of-mouth.
"People are desperate for good sleep, but most are freaked out by the dangers and side effects of typical sleep aids," said co-founder Adrienne Doring. "There can be skepticism that fruit can do the job, so getting attention from such a respected publication is a big validation."
Berry Sleepy is a unique natural sleep remedy made entirely from three fruits that have been proven to help induce sleep: passion fruit, tart cherries and goji berries. In addition to helping improve sleep, the fruits contain vitamins and antioxidants.
Berry Sleepy – The 100% Fruit Sleep Aid was first sold in January of 2013. The product website BerrySleepy.com sells 60 capsules for $49.95. Add coupon code "run" for $10 off at checkout. Accompanying the product is a 100% money-back guarantee.
Berry Sleepy is also available on Amazon.com. To learn more about Berry Sleepy or to view retail locations, visit the website.