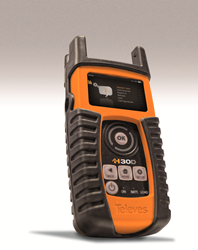 Best in class product for a very competitive price.
Denver, Colorado (PRWEB) June 11, 2014
Televes, a global leader in Television reception, distribution, and test & measurement equipment, is presenting its innovative new H30D3 handheld, remote controlled, DOCSIS 3.0 meter and the newly extended line of T.0X HD and SD QAM Encoders now with invisible watermarking at InfoComm 2014. The H30D3 is the latest in the company's line of industry leading field meters incorporating all the features of the H30 and adding support for DOCSIS 3.0.
H30D3 DOCSIS 3.0 MeterThe H30D3 is incredibly feature rich including a spectrum analyzer up to 1GHz, pre-loaded and user defined quality profiles, a simple to use tilt graph, equalizer, and all the necessary digital and analog measurements including a constellation graph all with a fully functional DOCSIS 3.0 modem providing all the usual measurements. All this plus a very simple to use, web based remote interface.
Steve Strong, COO, said, "The H30 series is truly a go to meter for any field tech and at a price point that management will be willing to leave on site for remote monitoring. This incredibly easy to use and very successful meter now includes a DOCSIS version meeting the market needs for a DOCSIS or non-DOCSIS cable system. These meters cover all your installation and troubleshooting needs for QAM Annex A, B, and C as well as legacy NTSC systems."
The Clear QAM Encoders, in addition to the existing dual Component HD version, now feature a dual component and HDMI HD version and a quad Composite SD version, all modulated on a single QAM channel. The HD versions encode 2 inputs up to 1080p and provide Dolby Digital, closed captioning, EAS support, and includes ASI input and output for easy EAS signal management, all with the innovative Televes integrated RF combiner. All versions encode both MPEG-2 and H.264 up to 1024QAM Annex A and B. It provides frequency agility up to 1002MHz with the same form factor and remote control capability of the T.0X family of products, for easy integration and operation of a unified video headend.
Mr. Strong added, "These new versions of our Clear QAM Encoders and the addition of watermarking with top notch quality at leading prices rounds out our extremely strong initial offering in this market."
These latest products from Televes' pioneering R&D teams, combines the ease of use expected in today's smartphone world with remote control capability and the reliability that has come to be expected from Televes equipment, all at industry leading prices.
The ability to provide a complete package of headend, distribution, antennas, fiber optics, and test equipment is at the heart of Televes' offering all while maximizing cost-effectiveness and total quality control through our internal design, development, and manufacturing capabilities.
About Televes:
Televes is a privately held Spanish company and one of the leading manufacturers of equipment for the reception and distribution of TV signals via satellite, off air, and cable as well as broadcast equipment including gap fillers and transmitters, and even includes video analytics, complete free-to-guest TV solutions, and test & measurement equipment. It's highly integrated, product family based solutions, provide uniform installation and operation, all at industry leading price points. Televes is the preferred partner for most of the largest satellite operators in the world and has offices in the US, Spain, France, UK, Germany, Poland, Italy, Dubai, China, Portugal, and a worldwide network of distributors.