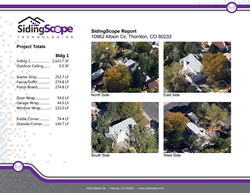 SidingScope® streamlines tasks and minimize all the setbacks a siding contractor would typically experience when gathering siding measurements.
Denver, CO (PRWEB) June 17, 2014
Scope Technologies, the leading provider of remote aerial measurements, is pleased to announce the launch of SidingScope®. Using advanced photo technology, SidingScope® provides accurate and affordable measurement reports to siding contractors, home contractors, roofing contractors or any other party that specializes in siding repair, siding installation or siding inspections. These comprehensive reports will save contractors time, money and manpower.
"SidingScope® was designed with the end user in mind," says CEO of Scope Technologies®, Jerod Raisch. "Our goal when designing SidingScope® was to streamline the tasks and minimize all the setbacks a siding contractor would typically experience when gathering siding measurements."
Scope Technologies® has created an extremely simple ordering process to make getting siding measurements as easy possible. The reports are also easy to read, as Scope Technologies® condenses all siding measurements into a clean, concise report.
"Instead of having one of your valuable employees drive out to a site to hand-measure siding, you can get all the measurements you need with a few simple clicks of a button," says Raisch. "By making ordering reports so easy, siding contractors can spend less time, money and manpower measuring and focus their resources on developing their business and increasing their cash flow."
SidingScope® reports feature only the essential information a contractor would need, including:
-Siding and outside ceiling measurements
-Starter strip, fascia/soffit, and frieze board measurements
-Door, garage and window wrap measurements
-Inside and outside corner measurements
-Clear aerial imagery from all angles
-Clean, color-coded plain view drawings from all angles
To order a SidingScope® report or for more information, visit SidingScope.com. Discounts for high volume orders are available. For custom pricing, call 877-697-2673 to speak to a Scope Technologies® representative.
About Scope Technologies
Founded in 2011 to help companies expand their business, Scope Technologies uses advanced mobile and cloud technologies to provide tools that help streamline processes with the ultimate goal of improving businesses' bottom line. The Denver-based company's visionary leadership, engineering and programming teams develop Scope Technologies' state-of-the-art systems and programs for use in the cloud for optimal delivery and growth.
###