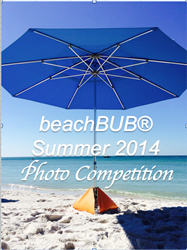 Colfax, NC (PRWEB) June 12, 2014
beachBUB USA is excited to announce their first competition for the summer of 2014. This will be the first competition that beachBUB USA has launched since first introducing the beachBUB®, beach umbrella base, in February of this year for the nationwide market.
The beachBUB® is a beach umbrella base that was created for the purpose of giving beach goers a complete way of anchoring and securing their beach umbrellas. In doing so the beachBUB® not only provides a stress-free environment for yourself but for those around you whom want to feel safe from unwanted flyaway beach umbrellas. The beachBUB® provides ease and simplicity. It also provides a way for beach goers that normally struggle to use their beach umbrellas and stay protected from the sun.
For this competition, participants are encouraged to take creative pictures and videos of their beachBUBs® as they go on vacation and send them in. They are further encouraged to include family members and friends of all ages putting up the beachBUB® and showing their own experience on the beach! The winner will be the best picture or video considered to be the most creative and thoughtful representation of the beachBUB®. The competition will span from June through August and a winner will be voted on and awarded a prize at the end of each month. Participants can enter their contact information through the website, email, Facebook, or Twitter and send in their videos and pictures.
Each month, first and second places will be awarded.
Prizes will be:
1st place: beachBUB® Umbrella
2nd Place: beachBUB® Ultra
About beachBUB USA:
beachBUB USA is a family owned and operated company based in Colfax, NC and envisioned in Naples, FL.
Marketing/Sales Contact:
Lucy Schermerhorn
http://www.beachbub.com
336-580-0189