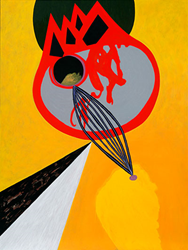 "Painting is the automatic pursuit of perfection. Each painting informs the next and yet perfection is beautifully unattainable. It is a type of path." - David Solomon
Santa Fe, NM (PRWEB) June 12, 2014
Patina Gallery proudly announces Shape Shifter, the second of the gallery's Drawn to the Wall exhibition series. Shape Shifter features the abstract paintings of Santa Fe artist David Solomon. Raised mostly in Florida, the ocean and nearby woods were his refuge growing up, and many of his paintings bear the natural forms he discovered there.
Solomon attended the San Francisco Art Institute and worked as a studio assistant to the painter Frank Lobdell and sculptor John Henry Waddell. Gesture and suggestion, streaks and drips are part of his vocabulary, at times primitive, biomorphic, and geometric. They explore a fertile world of imagery and shape where loosely drawn forms meander and collide.
Solomon has a refreshing lust for life and an intense devotion for his paintings. He is a passionate seeker and maintains a large library of reference books for inspiration. In addition to his own painting, he has been active in the artist community of Santa Fe at all levels for more than a decade, working as a curator, framer, handler, gallery associate, and conservator.
Solomon paints on sheets of aluminum, using specially mixed pigments. The metal imparts luminosity to his paintings as reflected light gleams back through the layers of color. Their hard, smooth surfaces take on texture when Solomon embeds unmixed pigments into his paints. Uneven applications of color or mottled layers soften the character of the metal and lend a quality of dimension and depth to the work.
"Painting is the automatic pursuit of perfection. Each painting informs the next and yet perfection is beautifully unattainable. It is a type of path." - David Solomon
Shape Shifter opens July 11 with a reception for the artist from 5:00 to 7:30 pm. The show runs through August 24.
Drawn to the Wall is an exhibition in three parts presenting the work of Santa Fe artists Gail Rieke, David Solomon, and Daniel Kosharek. These shows expand the gallery's mission of offering soul-stirring works, now including paintings and works for the wall. Drawn to the Wall is an opportunity to represent some of Santa Fe's most talented artists and to give back to the community of which Patina is a proud part.
Patina Gallery, known for works of high design craft and fine art jewelry, introduced this new series of exhibits by artists creating works for the wall as part of its 15th anniversary celebration.
High Resolution images available. Please send us a request.