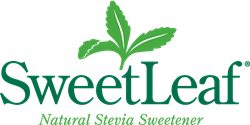 Gilbert, AZ (PRWEB) June 11, 2014
Food and beverage technologists are invited to visit booth #1252 at the Institute of Food Technologists (IFT) show June 21-24 at the Morial Convention Center in New Orleans.
The SweetLeaf Stevia® Sweetener team will be showcasing product lines/ingredients including its liquids, extract, blends, and SugarLeaf™, their baking product which is a mix of SweetLeaf Stevia and cane sugar, giving it 2/3 fewer calories than sugar.
SweetLeaf is free from the taste of solvent artifacts because the company uses a purified water-based extraction system that produces a wonderfully sweet and zero calorie, zero carb, zero glycemic index, virtually sodium-free food and beverage ingredient. SweetLeaf® is gluten-free and water and oil soluble as well as heat, freezer and pH stable, which makes it an ideal ingredient for a range of finished food and beverages. Applications include booming product categories such as yogurt, oatmeal, dairy-free frozen desserts, healthy sodas, and flavor-enhanced water. SweetLeaf is already successfully used in a variety of food and beverage products.
SweetLeaf Stevia
Wisdom Natural Brands®, parent company of SweetLeaf Stevia Sweetener, has developed more consumer stevia sweetener products than any other company.
SweetLeaf, winner of 13 global taste and innovation awards, satisfies heightened consumer demand for natural alternatives to sugar and artificial sweeteners. With no aftertaste, SweetLeaf extracts (USDA certified organic and Non-GMO Verified), powder blends and liquids are ideal for food and beverage manufacturers expanding their health and wellness platforms.
Consumers are looking for natural, healthy options for their diets and they're reading food labels with greater scrutiny than ever before. SweetLeaf's lineup of liquids, extracts, blends and baking products are natural, GMO-free and kosher. SweetLeaf is the leading innovator in the booming stevia market. When consumers read your food labels, make sure it includes natural SweetLeaf ingredients.
Technical expertise:
Wisdom Natural Brands®, parent company of SweetLeaf Stevia Sweetener invites all IFT participants to meet their chief scientific officer, Sai Prakash Chaturvedula, PhD. Chaturvedula will be at booth #1252 during the convention. With more than 20 years of experience in the research and development of food and beverage products, natural ingredients, nutraceuticals, dietary supplements, health and wellness products, pharmaceutical products, and bio-technology, holding various positions as research scientist, manager, technical expert, senior director, chief technical officer, and chief scientific officer, Chaturvedula welcomes discussion about SweetLeaf Stevia and its application as an ingredient in products.
About Wisdom Natural Brands®
Gilbert, Arizona-based Wisdom Natural Brands® is the parent company of two highly respected consumer brands: SweetLeaf Stevia® Sweetener and Wisdom of the Ancients® herbal teas. SweetLeaf® is the natural stevia sweetener with zero calories, zero carbohydrates and zero glycemic index. The only stevia brand to be named a Top Wellness Company and to win 13 global taste and innovation awards, SweetLeaf is sold in boxes containing 35 or 70 packets, as well as in SweetLeaf Stevia Plus® Shaker Bottles for easy home use and SweetLeaf SteviaTabs™ Dissolvable Tablets for on-the-go use. SugarLeaf™, also by Wisdom, bonds stevia with raw cane sugar for a low-calorie sugar alternative perfect for baking and cooking. SweetLeaf® Liquid Stevia Sweet Drops™ add flavor without calories or carbohydrates to favorite foods and beverages, and Sweet Drops Water Enhancers add natural flavor to still or sparkling water. For more information about SweetLeaf products, recipes and more, visit http:// http://www.SweetLeaf.com.
Wisdom of the Ancients herbal teas, from energizing Yerba Maté Royale® to calming Rooibos and Sympacho come in a variety of refreshing flavors. Select varieties are also available with a touch of calorie-free stevia sweetener.
SweetLeaf and Wisdom of the Ancients products can be purchased online at ShopSweetLeaf.com or at grocery and health food stores throughout the U.S. and Canada.
MEDIA CONTACTS:
Barbara McFadden
McFadden/Gavender
O: (520) 882-6262
M: (520-990-6040
barbara(at)mcfaddengavender(dot)com
Jeremy Andrew Belitsos
McFadden/Gavender
O: (520) 882-6262
M: (520) 332-3732
jeremyb(at)mcfaddengavender(dot)com
Website:
SweetLeaf.com
###