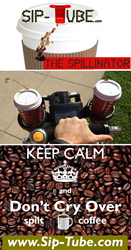 "Enjoy your coffee Splash-Free while On-The-Go with the SpilliNator. From www.Sip-Tube.com.
Beverly Hills, California (PRWEB) June 12, 2014
A simple invention...The SpilliNator solves a problem that plagues billions of people every year. It works by plugging and sealing the sip-hole on most popular beverage lids, then it allows you to pour, sip, and even suck like a straw (if desired), all while blocking spill and splash. Thus the slogan, "Splash-Free Drinking On-the-Go!".
Pictures, videos and more info can been seen here : http://www.bit.ly/SpilliNator
According to Wikipedia, "approximately 825 billion, with a "B" that is, cups of Joe are consumed each year. Making it the most consumed beverage and drug ever." With that in mind, actor Al Santos wondered how many cars, shirts and little old ladies get burnt by sloshing coffee every day.
Until recently, the only solution was those hard green plastic splash sticks, that plug the sip-hole on beverage lids. Well why buy a coffee if you can't drink it when you want it, (say on your long drive to work). This was the problem that plagued Santos, until this past Christmas that is. After a messy walk back home from his local Starbucks, when a nasty coffee spill finally pushed him to do something about it. One ruined shirt, a hot-glue gun, and few cut straws, and a several dozen lids later, The SpilliNator was born.
More technically speaking, it works by redirecting the flow-rate and direction of liquid through an angled and vented sip-tube.
Other featured benefits Include:
-Cheaper and far more Environmentally friendly than splash-sticks.
-Designed and tested to help those ailed by Parkinson's enjoy coffee.
-Beneficial to mothers pushing their child in a stroller, to help prevent child burns.
-Enjoy more of your favorite beverage faster, with a widened sip-hole.
-Adds suction ability similar to that of a straw, while preventing leaks from the cup-crease.
-Prevents line-of-site blockage while sipping and driving, thanks to its suction ability.
-Keeps your beverage hotter, longer, by blocking heat dissipation.
-Reusable, comes in variable colors, and is brandable.
-Designed for an active on-the-go lifestyle.
-Patent pending utility and design
With an Eco-minded awareness, Sip-Tube.com says they can make "up to six Sip-Tubes with the same amount of material needed to make one splash stick, and you can't drink from splash sticks."
Santos launched their kickstarter to gain awareness. Let's hope they make it so we can all enjoy a splash-free drinking experience soon. More on that at http://bit.ly/SipTube.