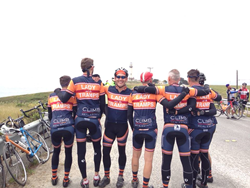 Climb Real Estate regularly donates to charities, supports community events, and volunteers for local nonprofits.
San Francisco, CA (PRWEB) June 11, 2014
Climb Real Estate Group has announced its sponsorship for three fundraising efforts spearheaded by its real estate agents: 2014 AIDS/LifeCycle, The Leukemia and Lymphoma Society, and the Blue Bear School of Music.
Climb Sales Associate Evan Bliss rode in this year's AIDS/LifeCycle event, a 7-day bicycle ride from San Francisco to Los Angeles to raise money and awareness in the fight against HIV/AIDS. Both Climb Real Estate and many of Climb's agents supported Bliss's team with donations, and his team wore Climb's logo. This was Bliss's third year participating in the event, which ran June 1st through 7th.
AIDS/LifeCycle raises more money in the fight against AIDS than any other annual event and funds life-saving programs and services at two of the nation's largest HIV/AIDS organizations, the San Francisco AIDS Foundation and the L.A. Gay & Lesbian Center.
"This is an event which is very close to my heart. I look forward to it every year, as I love to ride with my team and help in this fight against HIV and AIDS," said Bliss. "I ride for those we have lost and to help those who are currently dealing with this disease. Hopefully one day we will find a cure and we will no longer need to ride."
Senior Sales Associate Tom Watson competed in this year's Leukemia and Lymphoma Society's Man of the Year contest, which finished June 7th. The campaign is a fundraising competition in communities across the U.S. in which participants vie for the title of Man or Woman of the Year. Participants raise funds for blood cancer research. The titles are awarded to the men and women in each community who raise the most funds during the ten-week campaign; the top local fundraisers in the country also win the national titles.
"As I've watched my business grow and have enjoyed continued success, I felt it was important to find a way to participate in something significant," said Watson. "The work that the Leukemia and Lymphoma Society is doing is incredible. They're changing lives every day through funding research and supporting families fighting all forms of blood cancer. I've had the pleasure of meeting this year's Boy and Girl of the year, Roman and Aubrey (each 5 years old), and these kids are amazing. They're battling leukemia, and it's a true joy to watch them acting goofy, having fun, and just being kids. It's heartwarming to be a part of an organization that's making a difference in people's lives from coast to coast." Climb Real Estate donated to Tom Watson's campaign, and Climb agents donated personally as well.
Climb Top Producer Joshua Lawrence is a supporter of the Blue Bear School of Music, a San Francisco school for rock, blues, jazz, folk, and pop music. Climb Real Estate donated to the school's annual Blue Bear Benefit concert in May, which provides crucial funding for the school's nonprofit mission and music education programs that enrich the lives of more than 800 Bay Area youth, including hundreds of children from low-income families and at-risk communities in the Tenderloin and Bayview Hunters Point. The event included performances by The Jackie Greene Band and the school's children's bands, including a song where students were invited to join Jackie onstage for a joint performance.
Lawrence was on the fundraising committee for the event, and said, "Community support is crucial in helping Blue Bear provide excellent music programs, both at Blue Bear and through outreach to the Bay Area community. I am truly proud of Blue Bear's 43-year legacy and continued growth. Playing music changes lives. Supporting Blue Bear is crucial in helping provide excellent music programs for the city's youth and I am proud to be a part of their efforts."
Climb Real Estate regularly donates to charities, supports community events, and volunteers for local nonprofits. Previous philanthropy has included Habitat for Humanity, the SF Food Bank, DIFFA's Dining by Design, the Gay-Straight Alliance Network, EARN (Earned Assets Resource Network), Jordan International Aid, and more.
"Here at Climb Real Estate Group, we are always generously donating in the communities we serve," said Managing Broker Tiffany Combs. "We have a longstanding commitment to our philanthropic causes that help our clients, neighborhoods, and agents."
ABOUT CLIMB REAL ESTATE
Climb Real Estate Group is a full-service general real estate brokerage with an emphasis on the purchase, sale, rental, and marketing of select residential new developments, commercial, and premier resale properties. They specialize in condos, high rises, lofts, and homes in SOMA, South Beach, Mission Bay, Rincon Hill, Potrero Hill, and Central Waterfront. Their focus is on urban-style properties, specializing in new construction, historic loft conversions, live/work spaces, Victorian flats, modern condominiums, and stylish single-family homes. They also have exclusive access to off-market listings, foreclosures, and developer specials.