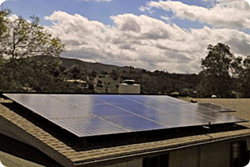 Residents have the opportunity to see substantial savings by becoming their own energy producers.
Vista, CA (PRWEB) June 11, 2014
Rooftop solar in California had a record year in 2013. The amount of rooftop installations more than doubled the previous year, closing out 2013 with more than 2,000,000,000-watts of solar power in California. To put this in perspective, it took 30 years to reach 1,000,000,000-watts of rooftop solar in the state. The growth of solar is not limited to the state, but also evident in North San Diego County. According to statewide data, Vista is the ninth largest solar city in San Diego County.
The benefits of going solar have ignited widespread adoption of solar power at homes throughout San Diego. One of the main reasons more residents are declaring energy independence is because of the high cost of electricity. San Diego Gas and Electric has the highest electricity rates in the continental United States. The national average escalation in electricity costs per year is more than six percent annually, according to the U.S. Department of Energy.
"It was a seamless opportunity to save money," said Vista resident, Juanita Crawford, who went solar with Sullivan Solar Power in 2012.
In Vista, there is about 5,300,000-watts of residential rooftop solar installed across more than 552 systems, according to California Solar Initiative statistics. Due to open landscape, high cost of living, and abundance of sunshine, inland North County serves as the perfect location to go solar.
The growth of the solar sector could also be attributed to the drop in solar panel prices. According to a report released by the White House the price of rooftop solar has dropped 75 percent and solar installations have increased by a factor of 13 since 2008. As most residents are finding out, solar is often cheaper than the utility.
"There is a reason San Diego is the solar capital of the nation. Going solar is cheaper than the utility and our location is optimal for solar power production," "said Daniel Sullivan, Founder and President of Sullivan Solar Power, "Residents have the opportunity to see substantial savings by becoming their own energy producers."
Sullivan Solar Power, the top installer in the San Diego Gas and Electric territory according to California Solar Initiative data, will be hosting the free lunch and learn. North County residents who are interested in learning about going solar can attend the Vista Seminar, on Saturday, June 21st from 11:00 a.m. to 12:00 p.m. at the Jim Porter (Brengle Terrace) Recreation Center (1200 Vale Terrace Drive, Vista 92084) The presentation will cover solar technology, how to determine if solar is right for your home, rebates and incentives, as well as a local case study. To RSVP, call 1-800-SULLIVAN or visit http://www.SullivanSolarPower.com for more information.
About Sullivan Solar Power
Sullivan Solar Power is a turnkey solar system provider that delivers solar electric projects from concept to completion. The company has installed more than 18,500,000-watts of solar power ranging from small-scale residential to large-scale commercial and municipal systems. Sullivan Solar Power is headquartered in Southern California and owned and operated by Daniel Sullivan. The firm is a turnkey solar provider using all State-licensed electricians and services all of Southern California. Regardless of project size and scope, Sullivan is committed to delivering the best products and the most qualified professionals to its customers. Visit http://www.sullivansolarpower.com for more information.
###