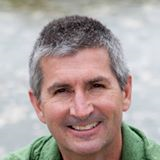 Neil enjoys the term "Less Pain, Move Well, Enjoy Life" "We can do more for people than cover up their pain."
(PRWEB) June 12, 2014
Integrated Health Yoga Therapy (http://www.ihyt.org/) faculty member Neil Pearson and his colleagues on the Board of Directors at Pain BC recently enjoyed a massive breakthrough in funding in the form of a $1 million dollar grant announced by British Columbia Health Minister Terry Lake, allowing the organization to provide BC residents suffering chronic pain with more access to help and reason to hope. The grant will allow Pain BC to continue and expand programs such as online patient education sessions featuring pain self-management skills, an online peer support community, and continuing education for doctors, pharmacists, nurses, and other health-care providers.
Pain BC is a non-profit organization formed in 2008, the first of its kind in Canada. It acts as a partnership between patients, health-care providers, leaders from academia, members of relevant non-governmental organizations and others in the development of educational resources, peer support, and tools to assess and manage pain. It's vision involves working toward "an inclusive society where all people living with pain are able to live, work, play, relate, and learn with confidence and hope, and without their experience of pain being a barrier to pursuing their lives." (http://www.painbc.ca/content/vision-long-term-outcomes-mission-and-strategies)
"Pain BC has an amazing opportunity to change things for the one in five British Columbians with chronic pain," said Dr. Michael Negraeff, a pain specialist at Vancouver General Hospital and co-founder and chair of the board of Pain BC. "This grant will help my patients access an expanded range of services to improve their quality of life and the effectiveness of my care." (http://www.newsroom.gov.bc.ca/2014/04/investing-1-million-in-easing-pain-and-giving-hope.html)
Neil Pearson is a registered physical therapist, a certified yoga therapist, and a yoga instructor. In addition to sitting on the Board of Directors for Pain BC, he is a clinical assistant professor at the University of British Columbia and was founding chair of the Canadian Physiotherapy Pain Science Division. For the past ten years Neil has focused his clinical practice on people with complex chronic pain. He teaches pain science and management courses to health care providers, yoga teachers and therapists, and to the public. Based out of Penticton BC, he teaches local therapeutic yoga classes for people with severe depression and chronic pain. For more info on Neil check out the IYT faculty page at (http://www.ihyt.org/#!faculty/cjg9)
As part of IHYT's summer intensive Yoga Therapist Professional Training, Neil Pearson will be instructing 2 upcoming workshops in July. Anatomy & Physiology for Health Care Professionals & Yoga Therapists builds the health care professional and yoga therapist's knowledge of basic concepts in anatomy and physiology and applies this knowledge to general health and individual medical conditions. Pathophysiology & Yoga Therapy for Chronic Pain explores common injuries, diseases, and pain from a bio-psychosocial perspective, integrated with the wisdom of yoga, in order to enhance the perspectives of yoga therapy trainees on yoga as a preventative and rehabilitative modality. For more info on these and other upcoming Neil Pearson workshops, check out the IHYT calendar at http://www.ihyt.org/#!calendar/c1ke7.
In October Neil is presenting two events as part of IHYT's advanced studies for those interested in furthering their skills as a yoga therapist: Pain Care Pain Care Yoga; 3-Day Educational Workshop for Therapists, and Overcome Pain with Gentle Yoga; 3-Day Experiential Workshop for People with Pain, and for those who are interested in being mentored and acquiring the PCY certificate. For more information on these events please visit: http://www.ihyt.org/#!yoga-for-pain-care-certificate/c1ytp.
Having been involved in a variety of studies and co-written numerous papers on the subject, Neil Pearson has fashioned a distinguished career both as an avid student of the science of pain and as a constant critic/creative thinker in relation to the health profession's preconceptions and assumptions regarding chronic pain. One of his mantras is the complexity of pain, for which he likes to use the term 'bio-psychosocial'. Simply put, pain flows from the whole range of an individual's human experience. Certainly a scientific understanding of neurological processes is important to understanding pain. But so too is a psychological understanding of a patient's stress response tendencies and a social understanding of a patient's spiritual wellbeing needs. This partly explains the efficacy of yoga therapy in addressing chronic pain, since yoga itself might be described as 'bio-psychosocial', or as some put it, connected to the body, mind, and heart.
Related to this notion of the complexity of pain is Neil Pearson's insistence on the uniqueness of each individual's chronic pain experience. This means not only are self-management techniques for pain sufferers an integral part of therapy, but health care professionals must be wary about being overly prescriptive in their approach. A variety of health care professionals and modalities can have a role in one patient's pain management, but the combinations and roles will change from patient to patient. This cooperative fluidity must always remain collaborative with the patients themselves, whose individual complexity it is, after all, that informs their pain.
Lastly, Neil Pearson insists upon an optimistic approach to pain. He truly believes that chronic pain can be treated and managed in such a way that lives can be transformed. His website (http://www.lifeisnow.ca/) employs the term "Less Pain, Move Well, Enjoy Life" as the goals of all interventions for people with persistent pain. "We can do more for people than cover up their pain," IHYT shares Neil's optimism in its philosophy toward all aspects of yoga therapy, aiming not only to alleviate symptoms but to restore and transform lives as well.
About Integrated Health Yoga Therapy
IHYT is a yoga therapy school for a wide range of health professionals whose practices might benefit from the skill-sets and philosophy underlying therapeutic yoga. Yoga therapy is becoming more and more recognized and utilized by the medical-scientific community as a safe and effective complementary therapy and treatment in a wide range of conditions. IHYT offers a carefully selected curriculum of evidence-based educational programs taught by faculty who are leaders in their respective fields, as outlined on our website at http://www.ihyt.org/.