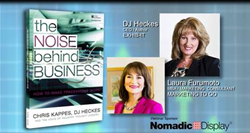 Albuquerque, New Mexico (PRWEB) June 30, 2014
EXHIB-IT! and Marketing to Go offer a global webinar titled "Notable Exhibiting Trends: Maximizing your Verbal and Visual Communication," which takes place on July 22, 2014 from 10-11:30 am PDT. This is the third in a series of quarterly global webinars called "The NOISE Behind BUSINESS - How to Make Trade Shows Work!" Early registration is encouraged as there are only 20 spaces remaining. Register at http://www.exhib-it.com/noise-behind-business-webinar.
Attendees will learn:

ways to maximize their visual and verbal communication
notable exhibit trends in the industry
the key ingredients for a great booth
what an exhibiting company should do for you
how to connect with tradeshow attendees by understanding personality type and five generation profiles
All attendees will receive an electronic copy of the book "The NOISE Behind BUSINESS – How to Make Tradeshows Work!" by DJ Heckes, the founder of EXHIB-IT! This award-winning book was recently named a finalist in the "Business: Marketing & Advertising" category of the 2014 International Book Awards. It is a comprehensive trade show guide that explores topics such as the tradeshow eco-system and the relationship between buyers and sellers, branding, show selection, pre-show planning, pre-show marketing, budgeting, staffing, demonstrations, and ventures into virtual trade shows and projections into the future.
"Business owners know their story, but often have difficulty identifying how and where to tell it," said Heckes. "We initiated this series of webinars to help business owners learn more strategic—and innovative—ways to choose trade shows and optimize their success."
The next webinar in the How to Make Trade Shows Work for You series will take place on October 21, 2014. Registration for all webinars can be made on the EXHIB-IT! website http://www.exhib-it.com/noise-behind-business-webinar. The two previous webinars in the series covered Why Tradeshow Marketing? and Selecting the Right Show.