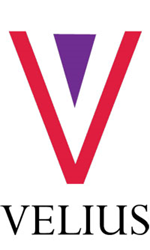 Great Neck, NY (PRWEB) June 12, 2014
Velius, LLC today announced the initiation of mini-pig animal studies in California. These studies will be on two of their proprietary prescription drugs, Scarfilm Rx and Psoriafilm Rx. Both these drugs use the Company's patented topical nanofilm technology to treat scars and psoriasis. Simultaneously with these animal studies, Velius is filing two new 510(k) applications with the FDA.
The mini-pig animal studies will cover various levels of potency for each of the two drugs. The primary objective of these studies will be to provide evidentiary data for FDA applications showing cytokine and enzymatic response to the Company's drugs. Velius plans to have the skin-punch biopsies from the studies analyzed by experts at Rockefeller University. These analyses will demonstrate the bioactivity of the drugs at the cellular level along the timeline of therapy.
Following the completion of these animal studies, Velius will conduct similar confirmatory human studies. The skin-punch biopsies from these studies will also be analyzed by Rockefeller University to provide a full dataset of both animal and human results.
The 510(k) FDA applications are the first two in a series of a total of six applications that Velius intends to file over the next eighteen months.
Velius' Scarfilm Rx is a potent topical combination drug that shrinks hypertrophic (raised) or keloid scars. Several clinical studies and decades of clinical practice have shown that multiple intracutaneous injections of corticosteroids into scars are effective in reducing scar tissue. Corticosteroid injections into newly-formed or legacy scars are excruciatingly painful and therefore few patients accept this mode of repeated treatment. Scarfilm Rx, through its proprietary paint-on nanofilm technology, provides nearly the same bioavailability as a subcutaneous injection in the form of a painless topical treatment. This will encourage many more patients to treat unsightly legacy scarring. It will also offer a potent option for post-surgery and post-injury prophylaxis in people prone to keloid and hypertrophic scarring. The number of new scars formed each year from accidents and surgeries, in addition to the number of legacy scars is enormous. Scarfilm Rx's easy application and nearly invisible properties will greatly enhance patient acceptance and compliance. Scarfilm Rx has the added advantage that it is less than 1 micron thick, so if used on the face, make-up can be placed over it.
Psoriasis is a dermatological disease affecting more than 3% of the global population. Velius' Psoriafilm Rx is a potent topical psoriasis combination drug that has shown in tests to ease the symptoms of psoriasis more rapidly than current topical medications. Psoriafilm Rx has the unique ability to enhance penetration of medications into psoriatic plaques, giving it a major advantage over gels, creams, sprays and ointments. These older vehicles have difficulty penetrating psoriatic plaques, limiting their effectiveness. In addition, the occlusive properties of Psoriafilm Rx provide nearly instant relief of pain and itching. Its biomechanical integration with the surface architecture of the psoriatic plaque ensures that it does not rub off or wash off. This allows the medicine to keep working reliably 24/7. The film eventually flakes off with the psoriatic plaque, leaving a healed skin surface.
Velius believes that Psoriafilm Rx will be greatly favored by both doctors and patients. Its mode of treatment is significantly less threatening than subcutaneous hypodermic or intravenous injections of corticosteroids, monoclonal antibodies or anti-TNF alpha drugs while at the same time being much more effective than gels, creams, ointments or sprays. Its side effect profile is substantially less than the monoclonal antibodies or anti-TNF alpha drugs. Its treatment regimen costs less and is safer. As a result, insurers are more likely to place Psoriafilm Rx into a mandatory treatment algorithm for psoriasis before advancing to more dangerous alternatives. The drug will also be effective for many types of eczema.
Velius expects that the commencement of these animal studies combined with the two FDA application submissions will have a rapid and positive impact on its valuation as it moves its drugs through the FDA approval process.
About Velius LLC
Velius, LLC, is a global biopharmaceutical company focused on the translation of innovative science into treatment. The company currently offers products and services for the treatment and management of skin diseases, and is pioneering novel medicines in areas of other serious disease areas. Velius' goal is to address some of today's most pressing areas of unmet medical need. The Company has developed a large pipeline of OTC and Prescription drugs and is currently filing patents on new formulations and applications. The Company also sells its OTC products in most major drugstores in North America under the Brand names Scarguard and Bruiseguard. Some of these OTC products are distributed by a major Pharmaceutical company in Asia. For more information, visit http://www.veliuspharm.com and http://www.scarguard.com.
This press release contains forward-looking statements. These forward-looking statements are based on management's expectations and are subject to certain factors, risks and uncertainties that may cause actual results, outcome of events, timing and performance to differ materially from those expressed or implied by such statements. The information contained in this press release is believed to be current as of the date of original issue. Velius expressly disclaims any obligation or undertaking to release publicly any updates or revisions to any forward-looking statements contained herein to reflect any change in our expectations with regard thereto or any change in events, conditions or circumstances on which any such statements are based.
Contact Information
Peter Mills, CFO
Velius LLC
516-482-8050
Peter(at)veliuspharm(dot)com