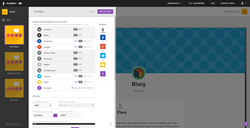 With Filament, we want to make it affordable for any website owners to improve the web experience of their visitors.
San Diego, CA (PRWEB) June 11, 2014
Digital Telepathy has launched Filament, a platform that enables website owners to install apps that improve the user experience of any website. By connecting their website to Filament, anyone can install and manage their apps via an intuitive drag & drop interface that eliminates the need for handling code snippets and evokes the simplicity and seamlessness of using smartphone apps.
The company, responsible for the user experience of sites like New Relic and The Lean Startup, aims to improve the experience of the web by empowering website owners of all technical abilities to create a more pleasing and engaging experience for their website visitors, and discover new tools that can assist them in doing so. In addition, Filament provides a much-needed marketplace for new and useful web apps - something that doesn't currently exist, yet is an established standard for mobile apps.
"We want to make the web a better experience for the hundreds of millions of people who use it every day," said Chuck Longanecker, CEO of Digital Telepathy. "Best-in-class web design is very expensive and, as a result, the experience of web users suffers. With Filament, we want to make it affordable for any website owner to improve the web experience of their visitors."
The platform offers six apps at launch - all free - including Flare, a customizable social sharing bar, Ivy, which lets your users highlight and share excerpts from your content, and Passport, a widget that displays all your social profiles in one place. Each app can be configured within the Filament interface, and then installed by dragging and dropping them onto a live preview of the user's website. Additional options enable users to control where the apps are deployed on the site - whether it's to be shown on every page, or only a subset of pages, such as blog posts. More apps are on the way, both developed internally by Digital Telepathy, as well as from 3rd-party developers, such as Mailchimp and Google Analytics.
In the future, Longanecker envisions the complete elimination of the code snippet as an activation mechanism for apps, with developers being able to distribute their apps via Filament to millions of website owners - who can then install them in seconds, free from the hassles of copying and pasting code.
"We can house all these apps in one location, and that way we can spend our time building new ones, without worrying about developing new platforms or distribution every time," he says.
Despite keeping a low profile during its 6 months in beta, Filament is already showing impressive traction with 25,000+ users and over 50,000 app installs. The platform is aimed at the marketing-oriented prosumer who runs one or more websites, and understands the impact of an improved user experience on the goals of a business, whether it be revenue, lead-generation, growing readership or otherwise.
About Digital Telepathy:
Digital Telepathy is a UX design studio based in San Diego, CA. Its mission is to improve the design of the web by providing simple products and services that benefit any website and their users.
Digital Telepathy's products make it easy for anyone to improve the performance and experience of their website with new standards and improved ways to interact with users. Previous products include SlideDeck, an award-winning content slider plugin for WordPress, and The Hello Bar, a simple way to grab a visitor's attention and drive more user engagement through clicks (acquired by Crazy Egg in 2012). DT's product objectives are to democratize web design while making the web easier to use.
Digital Telepathy also provides professional services to increase the performance of client websites by designing a better experience for their users. DT has developed an Objectives-Based Design Process that allows them to evolve website design over time with an iterative approach. They align design strategies with business metrics and validate the results to ensure each project makes a positive difference.