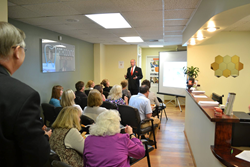 I am truly glad that so many local hygienists and dentists responded to my invitation. It shows that local dental professionals are interested in updating their knowledge in the field in order to provide better patient care".- said Dr Yarmolyuk
Arlington Heights, IL (PRWEB) June 11, 2014
Last week, Arlington Heights orthodontist Dr. Yaroslav Yarmolyuk held his annual educational event for local hygienists and dentists. This marks the second "Hygiene Night" that Dr. Yarmolyuk hosted at his practice, Orthodontic Experts Ltd. in Arlington Heights. The event was co-sponsored by the top orthodontic product manufacturing company- Unitek, a division of 3M company. Guest speaker Mike Brewer from 3M Unitek presented a lecture "Caries Risk Assessment: Good for your Patients, Good for your Practice". Sixteen hygienists and two doctors from Arlington Heights clinics attended the event. Each of them received two hours of continuing education credits and had a chance to meet Dr. Yarmolyuk, his staff and to tour his modern office. The dental professionals also had a chance to meet each other and exchange ideas and information on how to provide top notch dental care for their patients.
"It was great to see so many familiar faces again and meet some new people at the same time! The night was a success - celebrating with the food, drinks and an excellent lecture. We enjoyed the opportunity to catch up with a number of local hygienists and dentists". - said Dr. Yarmolyuk.
At Orthodontic Experts of Arlington Heights, Dr. Yarmolyuk and his team provide high quality, innovative orthodontic treatments to patients from neighboring communities. Some of the procedures performed at the orthodontic practice include traditional braces, clear ceramic braces, Invisalign and Invisalign Teen clear aligners, and behind-the-teeth lingual braces.
To learn more about treatments and upcoming events offered by Orthodontic Experts, please visit the practice website at http://www.orthodonticexprts.com or Orthodontic Experts' Facebook page at http://www.facebook.com/OrthodonticExpertsOfArlingtonHeights.