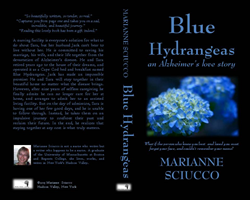 "Blue Hydrangeas was selected from hundreds of submitted titles." - Christi Love, BookWorks
Middletown, NY (PRWEB) June 11, 2014
Marianne Sciucco's award-winning Alzheimer's love story "Blue Hydrangeas" has been selected as BookWorks - The Self-Publishers Association's Book of the Week. BookWorks is a worldwide community dedicated exclusively to helping self-publishing authors prepare, publish and promote their books. Partnered with Publishers Weekly, PubMatch and Combined Book Exhibit, BookWorks gives its members exposure to markets and resources that no other organization currently provides.
"The BookWorks team enjoys reading the many excellent books written by our members, and keeps an eye out for those that are especially attention-worthy," says BookWorks' Christi Love. "'Blue Hydrangeas' was selected from hundreds of submitted titles."
"I was pleased and surprised to get the message from BookWorks that 'Blue Hydrangeas' is their featured book this week," says Sciucco. "I met up with them at last year's uPublishU conference at BookExpoAmerica and immediately became a member. They offer a lot to self-publishing authors and I'm proud they've chosen my work as worthy of their attention."
"Blue Hydrangeas" is the poignant, beautiful story of a pair of retired Cape Cod innkeepers struggling with the wife's Alzheimer's. Sciucco first published the novel, often compared to Nicholas Sparks' "The Notebook," on Kindle in April of last year, then in paperback, and recently in audiobook. The book has gathered 68 reader reviews, 49 of them 5-star, and an average rating of 4.7-stars. It's hit number one in Kindle's medical fiction genre four times, is IndieReader Approved by IndieReader, and recently received IndieReCon's first ever "Best Indie Novel Award." Readers can find it on Amazon, Audible, iTunes, Nook, Kobo, Vook, the Create Space eStore, and other online retailers.
About the Author
Marianne Sciucco is not a nurse who writes but a writer who happens to be a nurse. A lover of words and books, she dreamed of becoming an author when she grew up but became a nurse to avoid poverty. She later brought her two passions together and writes about the intricate lives of people struggling with health and family issues. Her next novel "Swim Season" is the story of Aerin, the new girl on the swim team, who challenges a longstanding school record. "Swim Season" is about more than swimming, however, as Aerin grapples with her parents' divorce, her father's new wife, two stepsisters she doesn't want, and her army nurse mother's PTSD and drug addiction following two tours of duty in the Middle East. Available in Fall 2014. Follow Marianne's Adventures in Publishing or keep up with her on Twitter, Facebook, and Goodreads.