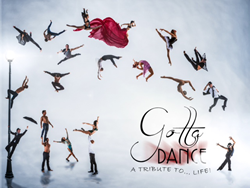 'Gotta Dance: A Tribute To…Life!' is about the uncontrollable urge to move and freely express yourself as you find rhythm and music in everything that surrounds you
Las Vegas, NV (PRWEB) June 11, 2014
"Gotta Dance: A Tribute To…Life!" a spectacular, new stage extravaganza celebrating dance through the years, is set for a World Premiere showcase July 2 and 3, 2014, at The Smith Center for the Performing Arts in the Troesh Studio Theatre, presented by The HAND Company, directed and choreographed by Giulio Scatola, and produced by Steve Hand, with production design by Emmy Award winner, Andy Walmsley and music produced by Josh Connolly.
"'Gotta Dance: A Tribute To…Life!' is about the uncontrollable urge to move and freely express yourself as you find rhythm and music in everything that surrounds you," says director/choreographer Giulio Scatola. "It could be a song or an unexpected beat pulsing from ordinary, every day sounds – from a machine engine hum to the sound of raindrops on the roof. As you liberate yourself through movement, you find connections with the vibrations of life and the people you come in contact with in a timeless celebration of who you are and who we all are!"
The showcase will consist of a variety of dance styles and music and will take the audience on a journey through some iconic and historical dance moments and figures from Hollywood to Broadway, to concerts and classic music videos. Styles will range from Jazz/Fosse to Tap, Modern, Hip Hop, Ballet, Latin, Ballroom, Acrobatics, Pole and Hand-To-Hand numbers and will be performed by a cast of some of the most in-demand, dancers from Las Vegas and around the world. The production will also incorporate an eclectic array of music featuring dance in the title from all genres and eras including the show's title track to "I Wanna Dance with Somebody" by Whitney Houston, "I Hope You Dance" (Lee Ann Womack) to "Dance My Pain Away" (Wye Oak), among many others.
Each dance "story" will depict various types of desires and urges: from sensual awareness to pure rhythm exploration; from old Hollywood dream sequences to modern dance poetic expression; from pure fun entertainment to spiritual and universal connection. The stage, the sights and the sounds will move as these desires unfold, transforming the physical stage environment into an explosive yet intimate evening of self-exploration and expression.
Some of the celebrities, events and organizations that the creative team behind "Gotta Dance: A Tribute To…Life!" have collaborated with in the past include: Oprah Winfrey, Justin Timberlake, Jay Z, Beyonce, Cee Lo Green, Carlos Santana, 50 Cent, Ziggy Marley, Gloria and Emilio Estefan, "American Idol," "So You Think You Can Dance," the Super Bowl, the Alvin Ailey Company and the Martha Graham Company, among others.
For additional information and to learn more about this World Premiere showcase event, please visit (http://www.GottaDance.us, Facebook @GottaDanceATributeToLife and Twitter @GottaDance2014). Performances are July 2nd at 7pm and, July 3rd at 4pm and 7pm, and will include VIP receptions one hour prior to the showcase performances.
# # # # #
About Steve Hand & The HAND Company (Producer/Presenter):
The HAND Company was founded in 1987 by Steve and Lesley Hand, as an entertainment production and décor company, and focused on booking live bands and a variety of other entertainment for corporate and private clients across the country. A former executive at the prestigious Regency Club in Westwood, California, with a flair for spectacular marketing ideas, Steve was sought after to produce movie trailers for the 20th Century Fox Film Corporation's Pay TV division. This began a run of six years producing movie trailers for Pay TV, Home Video, and the international airline industry, in conjunction with continuing to produce special events around the country. Eventually his clients included 20th Century Fox, Paramount Pictures, Walt Disney Pictures, and MGM Studios, where he produced all of the MGM international product reels for the Cannes film festivals, Mifed (the Italian film festival), and the American film market during this time. During four of those years, The HAND Company produced more movie trailers for the pay television markets than any other company in the United States. In addition, the company produced the only 50th anniversary video tributes for both "Gone with the Wind" and "The Wizard of Oz", in addition to the 25th anniversary tributes for the animation classics, "Tom and Jerry" and "The Pink Panther," all for MGM Studios. The HAND Company, changing direction, became a consulting company working with small businesses to build them stature and market awareness. It was during this time that Steve was asked to open an upscale party rental company in Los Angeles, as it's Vice President. After the initial year and a half of their existence, The HAND Company transferred the party rental company to its roster of clients and became their consultant company. Then in 2003, after giving in to the urging of his peers within the event industry, it was time to bring focus back to the production aspect of The HAND Company. Steve successfully re-launched The HAND Company, LLC, as a nationally-recognized, full-service production company specializing in corporate incentive trips, general sessions, award shows, new product launches, grand openings, unveilings, and employee events. Some of the celebrities that Steve has worked with on various events include Oprah Winfrey, Justin Timberlake, Jay Leno, Magic Johnson, Michael Strahan, and Ashton Kutcher, among many others. Most recently he co-produced "Super Saturday Night" Super Bowl Weekend in New York, featuring Jay Z & Beyonce, with Jack Murphy of Murphy Productions. The HAND Company excels in personal service and creativity, incorporating only the top people and companies within the event industry on their team. They are the perfect partners for the corporation or individual who appreciates quality and style.
About Giulio Scatola (Director/Choreographer):
Scatola hails from Rome where he began his training studying Ballet and Modern Dance before earning a scholarship in Lausanne, Switzerland at Maurice Bejart École-Atelier. He then received scholarships at the David Howard Dance Center and the Alvin Ailey studios in New York and has danced with such prestigious companies as the Martha Graham Company and the TAN National Ballet among others. His vast musical theatre credits include the European cast of "Fosse," under the direction of Anne Reinking, and the West End companies of "Notre Dame de Paris," "Cats," "Starlight Express," and "Joseph and the Amazing Technicolor Dreamcoat" among many others. After relocating to Las Vegas, Guilio served as the Artistic Specialist and Casting Advisor for all of the Cirque du Soleil resident shows in the USA and Asia. His work as Director and Choreographer include national and international companies such as Dolly Parton's Dixie Stampede, Stage Entertainment, PACHA group, Giuseppe Cipriani, SYTYCD Las Vegas convention and Cirque Du Soleil's One Drop Organization. Giulio's choreography has won various international awards (Golden Pegasus, David of Michelangelo's price for Artistic excellence among others).
About Andy Walmsley (Production Designer):
For more than 30 years, Emmy Award winner, Andy Walmsley has been considered one of the most prolific production designers with his designs being featured across all entertainment genres including Broadway, the West End, television, Las Vegas, theme parks, circuses, cruise ships, and even architecture - and is credited with designing two of the 10 longest running shows in West End history. He began designing sets at the age of 15 and after college, eventually landed a job as an art director on a Jim Henson project followed by a position in the legendary BBC television design department. While Andy tried to focus on a TV career, the theatre work kept on coming including the musical "Buddy, the Buddy Holly Story," for which Andy was the designer at the early age of 21, making him the youngest designer ever to work in the West End - a record still unbroken! "Buddy" ran in London for 13 years and became a huge international hit with a total of 22 productions running world wide, including on Broadway, an experience Andy found hard to believe, just 18 months out of college. As a designer of hit musicals, the TV dreams were on hold while Andy designed a string of West End shows and most notably Willy Russell's 'Blood Brothers' which opened in New York marking Andy's second Broadway musical in two years. With the theatre experience under his belt, Andy now found himself able to bring a fresh look to a jaded TV industry and in a very short time had designed literally dozens of TV specials, and award shows for all of the major networks and, three very prestigious Royal Variety Performances, which included meeting the Queen several times. Andy had always wanted to design a quiz show so when the call came to design the set for 'Who Wants To Be A Millionaire," Andy jumped on the opportunity and designed it in just a few days. What he had not realized was that the set he'd just created would change the visual face of quiz shows forever. The set for 'Millionaire' has been copied to the last detail identically in 108 countries. The "Millionaire" set is the most duplicated scenic design in history and was featured in the Oscar nominated hit film, "Slumdog Millionaire." The most prolific TV designer in UK TV history, his work on "Pop Idol," along with "Millionaire," are the two most successful UK entertainment shows of the last decade and were considered groundbreaking in terms of design. In 2003 he moved to the United States and since then has designed over 30 television shows, most notably: "American Idol," "So You Think You Can Dance," "The Biggest Loser" and "America's Got Talent," among others. A multiple Emmy Award nominee, in 2010 Andy won an Emmy for outstanding art direction for "American Idol." In addition, Andy has designed more Las Vegas shows than any other designer in Sin City.
About Josh Connolly (Music Producer):
Josh Connolly is an accomplished Music Producer, Recording Engineer, Programmer and Drummer with more than sixteen years of professional experience working exclusively in the entertainment industry. Combining musical creativity and record production skills to create a product that's competitive with current Industry standards, Connolly has worked in various capacities, from Music Production and Engineering for Cee Lo Green, Goodie Mob, Janelle Monae, Carlos Santana, 50 Cent, Wale, Ziggy Marley, Gloria and Emilio Estefan, Smash Mouth, Sisqo, "Planes" (Disney Pixar), "Despicable Me 2" (Disney Pixar), Steve Harvey's "Think Like A Man 2," the UFC, and Sketchers Inc. As a musician he has worked extensively with such award winning artists and productions as Lauryn Hill, Carlos Santana, Colbie Caliet, The Meters, Felix Pastorious, and "Legends In Concert" in Las Vegas as well as Hawaii, where he served as the show's at Musical Director.
About The Smith Center for the Performing Arts
The hallmark of downtown Las Vegas' 61-acre urban development known as Symphony Park, The Smith Center for the Performing Arts is a public-private partnership that opened in March 2012. Heralded as the city's Heart of the Arts®, The Smith Center is an architectural triumph and long-awaited cultural achievement that educates and entertains the citizens of Southern Nevada. The $470 million world-class performing arts center offers a blend of performances by resident companies, first-run touring attractions, lectures and internationally acclaimed performers in music, theater and dance. The five-acre campus features four performance spaces including the 2,050-seat Reynolds Hall, the 258-seat Cabaret Jazz club, the 250-seat Troesh Studio Theater and the 1.7-acre Donald W. Reynolds Symphony Park for outdoor concerts. Additionally, the campus is home to the Discovery Children's Museum that opened in March 2013. For more information about The Smith Center for the Performing Arts, please visit http://www.TheSmithCenter.com. Keep up with news and events on Facebook and follow The Smith Center on Twitter at @SmithCenterLV.
# # # #