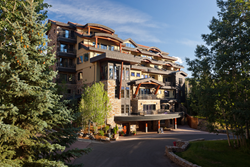 We have always worked to make it easy for pets to be in our hotel.
Telluride, CO (PRWEB) June 12, 2014
The lumière, a luxury boutique hotel located in the Rocky Mountain town of Telluride, Colorado, has been awarded the Certificate of Excellence from TripAdvisor for 2014. This is the second year in a row that the hotel has been recognized by TripAdvisor, and this award is particularly sweet as it is based on the quality of reviews and the opinions of guests who choose lumière hotel as their lodging.
"Our owners and our team were all ecstatic when we got the news from TripAdvisor," says hotel General Manager, Clare Evans Afman. "Of course we were over the moon to receive it the first time in 2013, but to see that our quality of care and hospitality continues to please our guests for the second year is a testament to our commitment to service excellence." Afman is in her third year as General Manager, and she admits to proactively encouraging the hotel's owners to continue to find ways to improve hotel luxury services and amenities.
lumière is a small hotel in a famously small and intimate high mountain town with world class skiing in the winter and internationally recognized festivals in the cool mountain summer. It offers eleven hotel rooms and eighteen residences ranging in size from one to five bedrooms. There are three penthouses. The property is located on the ski mountain in the Mountain Village, which is connected to the original Town of Telluride by a gondola that runs, for free, from early morning until fashionably late at night. This mode of transportation allows locals and visitors alike to travel quickly from the valley floor to the hotels, condos, homes, restaurants and shops that make up Mountain Village. Certainly taking the gondola is faster than driving from the town to Mountain Village, but more significantly, it cuts fossil fuel emissions that would eventually harm the delicate and pristine ecosystem that thrives at 8,750 feet above sea level.
Also recently announced was the Fido's Favorite award, presented by BringFido.com, the world's leading pet friendly travel site. "We know that our guests love to travel with their pets," again from Clare Evans Afman, "and we have always worked to make it easy for pets to be in our hotel. We are thrilled to receive this recognition from BringFido.com. Fewer than 5% of all pet friendly accommodations receive this distinction."
Accepting pets is critical for lodges in Telluride, especially during the heavy drive market months of summer. The town was established in 1878 and was one of many silver mining locations in the state. Now tourism and outdoor adventures bring travelers to the San Juan mountains, and in particular from the adjacent states in this Four Corners region: Utah, Arizona and New Mexico. Telluride is also a popular drive destination for Texans, with many scenic byways through scenery quite different from the plains and vistas of neighboring desert states. While it's easy to bring pets when traveling by car, it's not always easy to find lodging that will accept them graciously. The Fido's Favorite award from BringFido.com factors in not only the willingness to accept pets, but also the pet amenities offered during the stay.
"Winning these prestigious awards is wonderful," says Afman, "but it also inspires us to create new luxury services and amenities so that each visit is fresh and interesting for both new and returning guests." New this summer at lumière hotel are special packages that can include VIP passes to the various festivals (Yoga Festival, Telluride Jazz Festival, as examples,) access to presenter receptions held at the hotel and not open to the public, and lodging coupled with outdoor activities with the leading local guides and outfitters.
lumière hotel in Telluride, Colorado has earned kudos from two of the most-viewed travel websites, where rankings are determined from the reviews and comments of people who have stayed there and have first hand experience. To keep that good buzz going, the hotel has put together special packages that include lodging, event passes, special VIP opportunities, and partnerships with top local adventure companies like Telluride Outside and San Juan Adventures. But the hotel staff and managers advise travelers to stay tuned: there are even more new amenities and new services being planned for the upcoming ski season, with the goal being more excellence awards as an all-season top pick.
About lumière telluride
This intimate, luxury boutique hotel is one of the newest lodging properties in Mountain Village, with ski in and ski out access on the slopes of Telluride Mountain and high above the fabled town of Telluride on the banks of the San Miguel River. It is walking distance to shops and restaurants, and to the free gondola that runs from early morning until very late at night so that guests can easily go back and forth between the two delightful activity hubs. Accommodations include hotel rooms, residences from one to five bedrooms, and three penthouses. Ownership information is available.
Contact information:
Clare Evans Afman, General Manager
lumière telluride
118 Lost Creek Lane
Telluride, Colorado 81435
970.369.0400
cafman(at)lumieretelluride(dot)com