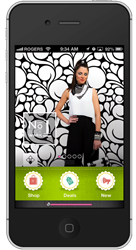 The Purple Forge MVS offers an engaging interactive visitor experience, which can drive increased foot traffic and increased sales.
Ottawa, Ontario (PRWEB) June 11, 2014
Purple Forge today announced that iBeacons™ are now supported as a feature of their award-winning Mobile Venue Solution (MVS).
The Purple Forge MVS is a cloud-hosted mobile service for venue operators. All major smartphone platforms are supported. Venue operators specify branding, content and have the option to use the Purple Forge MVS content management system directly for updates, or engage Purple Forge for full-service operations support.
The Purple Forge MVS is tailored for deployment in a wide range of venues, including malls, retail stores, museums, hospitals, events and stadiums. iBeacons™ will allow venue operators and their tenants to deliver engaging, context-relevant information, special offers and innovative traffic-generating contests to customers.
iBeacons™ require a minimal investment and are easy to deploy. The iBeacons™ are based on Bluetooth Low Energy (LE) technology and offer MVS-configurable notifications based on users entering, approaching or leaving an iBeacon™ enabled zone.
"Purple Forge's proven MVS solution offers comprehensive location and proximity based services for venues. The Purple Forge MVS offers an engaging interactive visitor experience, which can drive increased foot traffic and increased sales. " said Brian Hurley, CEO of Purple Forge. "The Purple Forge MVS is highly complimentary with public WiFi deployments, providing the opportunity for venues to monetize their public WiFi deployments in addition to offering increased tenant amenities and leasing value."
Purple Forge is a leading provider of mobile applications services to venue operators, municipalities and associations. Purple Forge has deployed hundreds of mobile applications to customers, including the St. Laurent Centre, Norfolk General Hospital and cities such as Ottawa, Vancouver, Calgary, Buffalo and Long Beach.
Venue operators and retailers are encouraged to contact Purple Forge at sales(at)purpleforge(dot)com to understand how the Purple Forge MVS and iBeacons™ can help increase visitor experience, increase traffic and increase sales.
Companies interested in partnering with Purple Forge are asked to contact Brian Hurley at brian(at)purpleforge(dot)com.
About Purple Forge
Purple Forge sells subscription based services to organizations looking to engage their stakeholders using the latest mobile application technology and leveraging community engagement and social networking best practices. Purple Forge's award winning mobile applications allow organizations to broadcast, share, and receive feedback from their target audience real-time, allowing them to foster long-term, engaged relationships.
Contact: John Craig, john(dot)craig(at)purpleforge(dot)com
iBeacon™ is an Apple trademark