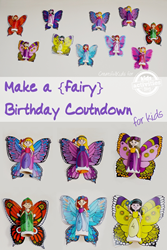 Each fairy holds a magic surprise for the kids in the house.
Dallas, Texas (PRWEB) July 05, 2014
Kids cannot wait for their birthday. A fun birthday countdown and flag crafts have been released on Kids Activities Blog. Make a magical birthday calendar for the kids this year. Let the kids see when the birthday is coming.
The birthday calendar is easy to make. Simply build a set of fairies with the easy instructions on Kids Activities Blog. Materials needed are toilet paper rolls and a fairy wing template.
Begin by printing the printable on Kids Activities Blog. Cut out the cute fairy wings and accessories. Glue them onto the toilet paper rolls.
Stuff the inside of the toilet paper rolls with toys, stickers, and other treats the kids will enjoy. This will ensure all kids in the house will have an item in the fairy body.
Enjoy the enthusiasm during the birthday countdown on a daily basis. The kids will know how many more days until the actual party.
Let the kids have a blast this summer making American flags. American flags are great for decorating any Fourth of July party. Let the kids help decorating by making a variety of different flags.
Among the ideas are popsicle stick flags, colored rice flags, an American flag dot paint coloring sheet, and a duct tape American flag idea.
A vintage American flag made out of fabric scraps will give a classic look to any party. Magazine mosaic flags are great for kids of all ages.
A cute yarn American flag project will entertain the kids during the party. The list is endless and the project ideas are for the youngest and even oldest kids.
For detailed instructions and to get additional fun ideas, check out Kids Activities Blog this week. Come get inspired to have a blast together with the kids this week.
About Kids Activities Blog
Kids Activities Blog is a website created by two moms (who collectively have 9 children), Holly Homer and Rachel Miller. Their new book was published this spring by Page Street, 101 Kids Activities That Are the Bestest, Funnest Ever! Kids Activities Blog is an interactive website that publishes fun things to do with kids twice a day. It is an amazing resource for moms, dads, grandparents, caregivers and teachers to find kid-friendly activities that create memories and sneak learning into the fun.