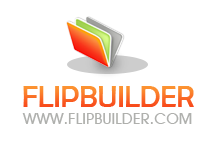 (PRWEB) June 12, 2014
Uploading product brochures as PDF files is a common practice for eCommerce webmasters, but often leads to traffic loss and high bounce rates, due to the fact that the visitors are redirected to an external page. To help solve this, FlipBuilder, a flip book converter supplier, allows its users to create beautiful PDF to flash flipping brochure in an innovative way.
A common concern for webmasters is that using flip book software quite often results in increased load time and sometimes the content is not accessible via mobile device, but with flip book converter from FlipBuilder, this is no longer an issue – it's lightweight and especially optimized for mobile device users to deliver the best experience possible. Both HTML5 and Flash outputs can be created for every flipbook and provide visitors with an amazing experience.
Other features that make FlipBuilder an indispensable tool for flipbook creation and ecommerce marketing are its Google Analytics and social media integration. Easily track visitor engagement on flipbooks and also get tons of other traffic data. With the social media integration on the other hand, visitors could easily share the brochure in Facebook and Twitter, as well as email it and even embed it on their own websites.
Who says product brochures needs to be boring? Create interactive, beautifully designed flipbooks with FlipBuilder and allow website visitors to access information about products or services in a new way. The results – the product brochures will look beautiful and immediately attract the visitor's attention, be shared in all major social networks, the website can receive high quality links and in the meantime the webmaster can get detailed statistics about activity on published flipbooks. Reduce bounce rates and generate more sales with FlipBuilder.
FlipBuilder is an innovation and professional digital publishing platform, providing best solution to convert statics PDF files into wonderful online flipbook. For more infotmation, go to http://www.flipbuilder.com.