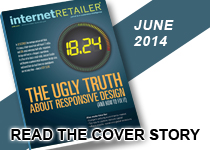 These three-digit increases in conversions are very common with brands that replatform to UniteU.
Chicago, IL (PRWEB) June 11, 2014
UniteU, a leading omnichannel commerce platform provider and mCommerce integrator for retailers, has been recognized as a "Pioneering vendor…that (is) evolving responsive design in ways that greatly reduce long page load times while still offering feature-rich shopping on smartphones," in Internet Retailer's June 2014 cover story "The ugly truth about responsive design (and how to fix it)," by managing editor Bill Siwicki. The cover story was produced after a first-of-its-kind e-retail study that monitored performance on leading sites over the course of a month. UniteU was selected because of its ability to increase both site speed performance and mobile conversions with its Hybrid Responsive™ design technology.
Siwicki reported, "A 1-second delay in web site page load time translates into a 7% loss in conversions," and also revealed the results of the study that showed that mCommerce sites using responsive design average a staggering 18-second load time. "While e-tailers have relied on responsive design to create a better mobile shopping experience, the sluggishness in load times really frustrates and turns away mobile shoppers," said Soumen Das, Founder and CEO of UniteU. "Our Hybrid Responsive™ technology eliminates that sluggishness, improves the mobile shopping experience and increases conversions."
UniteU customer City Sports recently reported a 145% increase in mobile conversions by adopting UniteU's latest mobile site technology. The case study was highlighted in Internet Retailer's cover story teaser Responsive design's dirty little secret. Additionally, earlier this year, Das and Chris Boomhower, Director of eCommerce for Jewelry Warehouse, were invited to speak at the IRCE Focus: Web Design + Mobile Commerce conference about their success with the Garnet and Black Traditions mobile website, driving a 109% increase in conversions.
"These three-digit increases in conversions are very common with brands that replatform to UniteU and leverage our unique Hybrid Responsive™ solution," said Das. The Internet Retailer article points out that, "UniteU has a secret: Where most responsive design sites have only one code base, UniteU responsive design sites have two—one for desktop/tablet and another for smartphone." The result is that UniteU's clients see mobile page load speeds comparable to the Google home page.
UniteU is showcasing its Hybrid Responsive™ design technology at this week's IRCE 2014 event in Chicago, at booth #914 in the McCormick West Exhibit Hall.
For more information about UniteU Hybrid Responsive™ design, visit http://www.uniteu.com/Mobile.aspx.
About UniteU Technologies (http://www.uniteu.com):
UniteU creates technology that allows retailers to provide unified commerce experiences across channels and devices. UniteU offers a wide range of solutions and services including Hybrid Responsive™ mobile commerce, uMobile POS™ and UniteU Commerce™, a powerful commerce platform that embodies more than a decade of omnichannel insights and high-volume experience. Superior technology and performance has resulted in an impressive client list that includes Pharmaca, Joes Jeans, Edwin Watts Golf, City Sports and the world champion Miami Heat.