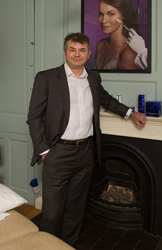 Many companies say they aspire to providing great customer care, yet few are able to prove their delivery with quantifiable research. We're delighted that our patients have chosen to rate us so highly
Northampton (PRWEB UK) 11 June 2014
Mulberry House Clinic & Laser Centre has been established for over 10 years, providing professional, doctor-led skin treatments in the Northamptonshire area from its clinic in Hardingstone.
The Company has recently undertaken an extensive, independent and anonymous survey of its patients to explore their level of satisfaction in a number of key areas. The results are outstanding on every level.
In a simple 'marks out of 10' rating, 61% of clients would give Mulberry House Clinic a full 10 out of 10 with a staggering 98% grading it 8 or more. 98% also graded their overall experience 'good' or 'very good', with over 78% in the latter category.
98% would happily recommend Mulberry House Clinic to friends or family for future skin treatments, with one patient commenting:
"I have been a customer for a while and really rate the services provided. I have recommended to several people who have also been pleased."
100% of patients were happy with the explanation of treatment options, which is a very important statistic especially for new patients, who might be unfamiliar with the range of treatments available. Good expert advice is vital to helping them make the right decision and can be quite a complex matter, involving consideration of a range of factors.
Mulberry House Clinic has an unusual breadth of choices for anti-ageing and skin treatments. As well as popular anti-ageing injections, they also offer advanced skin technology with LED skin therapy, laser, radiofrequency, PRP (platelet rich plasma) and plasma energy skin regeneration treatment. Patients particularly appreciate expert medical advice for difficult medical conditions such as rosacea, thread veins and even hyperhidrosis; while the extensive treatment options enable the right approach to be offered to each individual patient.
100% of respondents were happy with the location of the clinic, with 66% rating it very good and 30% rating it good. The location close to Northampton is conveniently located for transport, yet the clinic itself is spacious, tranquil and well-appointed with ample free on-site parking.
Similarly high scores were achieved for the booking process, accommodation of appointment, how well the provider listened and the all-important treatment results.
Dr Tanqueray MB BCh MRCGP DCH DRCOG DipOccMed BCAM welcomes the findings of the survey, commenting:
"Many companies say they aspire to providing great customer care, yet few are able to prove their delivery with quantifiable research. We're delighted that our patients have chosen to rate us so highly and also appreciate that so many have taken the time to complete the survey."
"Mulberry House Clinic was started in 2003 and over the last 11 years, we have always held close to our simple philosophy; which is to make patients' ongoing well-being our priority, with a promise and commitment to ensure the highest standards of service and clinical care throughout."
"As well as our commercial success and patient loyalty, these survey results clearly show that our dedication is valued by our patients. Yet while we welcome the positive feedback from our patients, we won't rest on our laurels; as it is by constant development and delivery of new treatments as well as excellent customer service that we will remain at the leading edge of non-surgical skin treatment in the UK."
The Northamptonshire based clinic's impressive reputation and high levels of patient satisfaction have previously been recognised publicly with a series of awards. They were Highly Commended in the coveted Aesthetics Awards 2013-2014 and also received the WhatClinic 2014 Customer Service award, placing them in the top 1% of UK treatment clinics.
Mulberry House Clinic & Laser Centre is based in Hardingstone, Northamptonshire; and remains independent and doctor-managed with its patients' best interests placed firmly at the heart of the business.