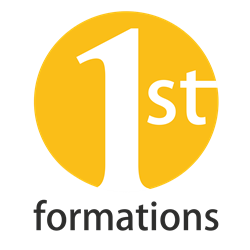 London (PRWEB UK) 13 June 2014
London based business specialists 1st Formations have officially opened the doors on their new venture in the heart of Covent Garden. With over 10 years' experience providing office facilities and mail services to help UK small businesses thrive - they have now turned their attention to helping simplify and modernise the company formation process by taking it online.
Many UK limited companies are still formed directly through Companies House or with the aid of an accountant, which can be costly and time consuming. With 1st Formations it is possible to form a new limited company for as little as £16.99 and complete the entire process online in 5 easy steps, without any need for signatures or paperwork. 1st Formations intuitive website has a crisp modern design and is fully optimised for responsive mobile usage, so you can even form a company on the move.
In the UK last year there were 526,446 new companies registered with Companies House, and similar figures are projected for 2014. It is clear that the small business community of Britain is booming and there has never been a better time to start-up a company, especially now that it is so straightforward.
1st Formations offer 5 company formation packages for companies limited by shares as well as specialist packages for companies limited by guarantee and Limited Liability Partnerships - a range designed to fit the needs of any new business. Some of the features included are hard copies of official company documents, a London registered office address, VAT & PAYE Registration, a mail forwarding service (allowing use of their Covent Garden address for all business correspondence) and a package of handy Legal Contract templates which are invaluable for first time business owners.
With simple and user-friendly order processes allowing new businesses the tools needed to convey professionalism from the start, and their own business expertise, 1st Formations are heading for the forefront of the company formation industry. More information can be found at https://www.1stformations.co.uk.