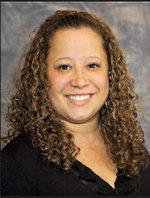 We seek to hire the best professors and staff for our students, and Dr. Franklin is a great representative for us.
(PRWEB) June 13, 2014
American College of Education is proud to announce that Rochelle Franklin, the college's director of faculty training and development, is a recipient of the Graduate Scholar Award for the 2014 Learning Conference held in New York next month.
"American College of Education is very proud of Dr. Franklin for receiving this prestigious award," said College Interim President and Provost Shawntel Landry. "We seek to hire the best professors and staff for our students, and Dr. Franklin is a great representative for us."
According to the Learning Conference, it selects a small number of outstanding graduate students who have an active academic interest in the conference area to receive the Graduate Scholar Award. Graduate scholars perform a critical role in the conference by chairing the parallel sessions, providing technical assistance in the sessions, participating in talking circles and presenting their own research papers.
A recent doctoral graduate, Franklin's proposals focused on the impact of online instructor actions on graduate, education students' satisfaction. She submitted two proposals to the award committee: ePortfolios: An Online Tool Designed to Demonstrate Graduate Students' Proficiency, co-authored with American College of Education's Professor Tiffany Hamlett, and the second proposal sharing Franklin's dissertation findings in The Perceived Importance and Impact of Instructor Actions in Online Graduate Education Students' Satisfaction.
"This award provides a strong professional development opportunity for all of the recipients at this stage in their academic careers," added Landry. "Dr. Franklin and the other scholars will have the opportunity to meet other experts in the education field while interacting with colleagues from across the world."
The 21st Learning Conference is international and focuses on digital learning and teaching. It will be held July 14-17 at the Lander College of Women at Touro College in New York City. Graduate scholars will receive free registration and are given special recognition during the conference proceedings.
One of the founding principles at American College of Education is to improve the quality of education throughout the world. "Awards such as this one help our faculty further their knowledge and experience in teaching other educators," added Landry. The college offers Master of Education, Specialist and Doctoral degree programs for teachers and other education professionals in addition to certificates and paths to licensure. The college is known for high academic standards, innovative programs and quality student support.
About American College of Education
American College of Education delivers affordable, online graduate programs that provide evidence-based content and relevant experiences to improve educators' knowledge, skills and performance. http://www.ace.edu.