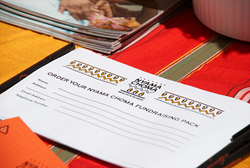 Bring the flavour of East Africa to your back garden and you could help train vital health workers across sub-Saharan Africa by hosting a Nyama Choma barbeque this summer!
(PRWEB UK) 13 June 2014
The Swahili phrase Nyama Choma translates as barbecued meat. But in Kenya it means much more than that: it brings a sense of celebration, of bringing family friends and colleagues together, of good times whatever the occasion.
Participants are invited to host a BBQ and ask their guests to donate £15 towards Amref Health Africa. This money goes towards supporting our work in improving maternal health in Africa. One Amref Health Africa trained midwife can support 500 women each year.
Amref Health Africa provide everything you need to make your BBQ go off with a bang including African recipes such as the famous Kenyan Nyama Choma, music ideas from across the continent and games that increase the amount you raise at your BBQ.
More details and a charity BBQ tool kit can be found at our dedicated Nyama Choma website.
Amref Health Africa is Africa's leading health organisation and has been in existence since 1957. Amref Health Africa has used strategic partnerships and ground-breaking programmes to bring better health to 30 million people in 35 African countries. Mothers and children are at the heart of everything we do.
Amref Health Africa has pledged to train 15,000 midwives by 2015 which will mean 7.5 million more women will have access to maternal health care each year. The Nyama Choma event is supporting our wider work in health development in the continent.
This will be a community fundraising event, with participants supported by the UK Amref Health Africa office.