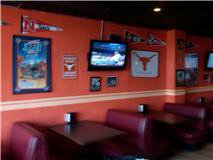 Restaurant booths are very popular with all kinds of restaurants because they add a lot of value
San Antonio, TX (PRWEB) June 11, 2014
Restaurant Furniture Supply recently helped Ray's Pizzeria in San Antonio, TX update their seating by supplying them with new dining booths.
Ray's Pizzeria is a family owned and operated restaurant in San Antonio, TX. They opened their doors in September 2009. In addition to pizza, they serve a variety of Italian cuisine and specialties. They use the freshest ingredients and all of our products are homemade, from hand tossed pizzas to an extensive menu from Ray's Pizzeria. Included are Specialty Pizzas, Cold and Hot Subs, Chicken Wings, Calzones, Stromboli, Salads, Seafood, and Pasta's and Desserts.
Ray's Pizzeria has two locations in San Antonio, Texas and one in Universal City. They also offer catering for parties and private events. They also have happy hour and broadcast sports on 8 large screen televisions.
The owner of Ray's Pizzeria was looking to upgrade his seating and contacted Restaurant Furniture Supply because of their excellent reputation for quality and service. He decided to go with restaurant booths, which is a family friendly alternative to tables and chairs. It is also a very popular choice with diners who like the comfort and privacy.
The owner chose Restaurant Furniture Supply's Standard Single Quick Ship Booth in wine color. The booth comes in black and wine in heights of 36" and 42". The Standard Single Quick Ship booth sells for $188 and can be delivered in 7 – 14 days.
Restaurant furniture Supply offers a wide variety of restaurant booths. All restaurant booths are made in the USA by skilled craftsman and are known for their quality and durability. Booths can be custom made in any shape or size and out of any material.
"Restaurant booths are very popular with all kinds of restaurants because they add a lot of value" remarked Chris K., sales person for Restaurant Furniture Supply. "Restaurant Booths add prestige to the restaurant and customers love them."
Browse Restaurant Furniture Supply's full selection of commercial grade chairs, bar stools, table tops, table bases, booths and patio furniture at http://www.restaurantfurnituresupply.com or talk to a customer service representative at (888) 346-9992.
Ray's Pizzeria is located at 5252 Fredricksburg Rd. in San Antonio, TX. They can be contacted at (210) 257-8520.