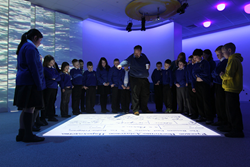 4K Video support, Edge-blending, Geometric Correction and Projection Mapping are just some of the new features of AdVis 2.1
London, UK (PRWEB) June 12, 2014
Luminvision Ltd. recently launched AdVis 2.1 update to their highly successful AdVis (Advanced Interactive Systems), which has the ability to turn normal computers and projectors into virtual interactive displays. The new update boasts of an enhanced motion detection system, a redesigned launcher and several spectacular effects incorporated into the system.
Clients can use the AdVis Launcher to customize the effects as they need, which means clients have total control on the overall content along with the number of objects and individual settings used within a specific effect. The movement of the objects and their interaction with the user can be customised and the duration the effect runs for can be set until it seamlessly transitions to the next effect. AdVis also allows for an unlimited number of infrared tracking kits and projectors/displays. The interactive system is not limited to projectors either; it will with work with any type of display including LED allowing you to create interactive floors, interactive walls, interactive windows and interactive tables.
Edge Blending and Overlap
With built-in edge-blending and edge-overlap features, AdVis enables interactive displays to work better than its contemporaries. Using advanced algorithms on the computers graphics card, projector images can be overlapped and blended to create large seamless displays. Normally, the edge blending process can be done only on expensive projectors or using expensive hardware solutions. Many expensive software solutions can re-create edge blending but are impeded with delays, which is no good for the process of interactive projection where real-time response is a must.
Luminvision has integrated and incorporated Edge Blending as a standard for all effects seamlessly within the new AdVis update. One can edge blend up to four projectors as standard for a clear and seamless display. As the process runs on the graphics card, there is minimal processing overhead and the effects generated react in real-time with the user. For custom installations, AdVis 2.1 can edge-blend an unlimited amount of projectors which when combined with its built-in geometric correction can recreate a display of any size and shape. AdVis can be used on large Projection Mapping installations, projecting on anything from cars to buildings.
Real-time Interactivity with High Resolution
AdVis 2.1 update has optimized the system to produce real-time interactivity with the highest resolutions. The effects are customizable and come with their own configuration for adhering to your needs. Additionally, the system is user-friendly so that novices can operate it too.
The update also helps the system to support full HD 1080P resolutions and even 4K resolution video, which can help you to develop crisp interactive installations with high quality content.
Quicker Installation and Setup
AdVis 2.1 offers a significantly faster platform and a more accurate version of the Advanced Interactive System. Even the set-up times are faster; with quick installation from advanced interactive installations of any size and shape on multiple surfaces.
Upgrades and Enhancements
Some of the upgrades and enhancements of the system include:

Rebuilt motion detection engine for better performance, accuracy and stability; suitable for diverse environments
Improved response time with little latency
Advanced configuration program, directly through the PC instead of manual operation
Perfect calibration between camera and projection
Completely stable platform
Redesigned launcher with an easy to use interface, even for novice users
Quick accessibility through launcher for configuration, testing and launching the effects.
Build new effects with custom content, or edit existing effects to build specific sequences
More than hundred effects with different interactions and themes and over 30 templates.
Built-in networking function allowing multiple installations to be updated from a single server.
Client installations can perform periodic log in to a server and check for updates, download new content and start playing the new sequence in the background, without any user intervention. Server can also force updates to the client.
Improved video support with support for 4K resolution video
Improved edge-blending and geometric correction for using multiple projectors.
Improved infrared tracking kit. Infrared sensor and emitter are integrated in a single compact unit.
AdVis 2.1 as an Educational Tool
Interactive displays can be used as an educational tool for younger audiences for better interactivity and entertainment during the learning process. With the help of the advanced motion tracking system, pupils and teachers can interact with the projected image for revealing underlying layers and even interact with the educational content directly. The interactions help in provoking discussions and getting young minds interested in diverse subjects. AdVis 2.1 serves as an ideal teaching tool for student engagement and expanding their intellectual horizons. AdVis 2.1 also helps in creating an immersive experience with different types of educational videos, pictures and audio, which are based on existing curriculum.
Add-ons to AdVis 2.1
Luminvision now also supplies a range of Multi-Touch Overlays and touch foils, which can extend beyond the active display area for interaction. Multiple users can manipulate content and collaborate through different gestures with support for up to 40 Touch Points. All processes and actions including drawing, navigating, organizing or gaming, is set up to be fluid and responsive. The overlays are ultra-thin and powerful too.
Additionally, the company has also developed a 40-finger Multi-Touch frame, which boasts of palm rejection capability for single and multiple user interactivity. One can integrate the slim and scratch-resistant frame in any upscale commercial environment using existing displays.
The Multi-touch overlay also features sub-millisecond processing, zero-force sensing, along with absolutely no parallax. These features help in delivering instant and precise touch recognition. The overlay system is platform-independent too and compatible with Windows 7 and 8, Mac OS X, Android, Linux and TUIO protocol.
Need for Dynamic Distributors
Luminvision is looking for new distributors worldwide as part of their existing network of 30 distributors for educational software and hardware. The company has new and impending high-tech solutions related to educational software, which help children to learn and study easily. The company is keen to market its interactive projection systems coupled with international standard quality add-ons for the benefit of the masses.