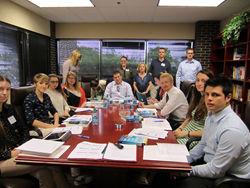 Participants self-rated knowledge of the job market and job search techniques before and after the session revealed a marked improvement.
Parsippany, NJ (PRWEB) June 12, 2014
A.J. O'Connor Associates' (AJO) complimentary "Career Day Workshop" is periodically featured on AJO's events calendar and is designed to help young professionals navigate today's job market and successfully launch their careers.
Targeted at college aged students, this one day event was recently hosted at AJO's offices and covered current job search techniques; planning and preparing for today's job market; tools required and effective strategies for networking, interviewing and negotiating offers. While participants learned a lot, AJO team members gathered insights too on the readiness of today's new workforce entrants to embark upon and manage their careers.
AJO's Senior Consultant and Social Media Expert, Katie McGinty facilitated the workshop. In addition to her AJO work with seasoned professionals and executives, Katie is also an adjunct professor at a NJ State University. Her academic teaching experience made Katie the ideal AJO facilitator for this group and based on feedback at the end of the day, the group thought so too.
Katie observed that less than a third of the group had LinkedIn profiles; approximately one-third used Twitter and almost all had Facebook accounts. Understanding the role played by each online network was a key take-away. Everyone left the session understanding the value of LinkedIn in particular for ongoing successful career management. Timeless strategies and approaches not typically honed well by college students (such as networking and relationship building) were also emphasized. Katie fielded questions on cover letters, resumes and interviews, including how to handle tough interview questions.
Katie's top career tips for those graduating this year are as follows:

Know who you are. Be authentic & proud of it!
Strive to make, grow and treasure relationships! Network Always…it's not who you know; it's who knows you!
Communication is key. Reach out to others; share relevant information; keep in touch; be known for your responsiveness!
Continue to learn always. While your formal education may be over, continuously look for learning opportunities!
It's your job to manage your career. Recognize, communicate and keep track of your accomplishments! If you're not going forward, you're going backward!
Marie Tanzi, AJO's VP, Career Transition Services who organized and kicked off the day shared,"AJO is delighted with the feedback. Participants self-rated knowledge of the job market and job search techniques before and after the session revealed a marked improvement. Plus, the group was very appreciative of the opportunity to participate and for the access to AJO's online career tools and resources which we provided post event."
The following clip includes images, video and feedback from the day.
About A.J. O'Connor Associates (AJO): Founded in 1983, A.J. O'Connor Associates partners with individuals, teams and organizations to reach their goals. From the career coaching needs of individuals and organizations, to executive coaching, to team and leadership development programs, AJO offers uncompromising personalized service and customized solutions. Headquartered in New Jersey, AJO is a second-generation family owned business with a strong client base throughout the Northeastern United States. AJO's team includes over 100 knowledgeable and experienced Executive Coaches and Senior Career Consultants who offer expanded national and international coverage. Contact us to learn more.