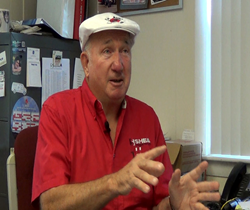 Things have changed and we've only gotten bigger since we acquired New England Precast in 1999," Ed Shea said. "It was the best decision I ever made."
Wilmington, MA (PRWEB) June 12, 2014
With thousands of products in its catalog, Shea Concrete has come a long way from its original product line that included septic tanks, residential steps and bulkheads. It's 65-year anniversary marks another milestone in years full of innovation, consistency, and commitment to customer satisfaction.
Shea Concrete, currently home to 85 employees, 20 delivery trucks and 3 production plants, is one of New England's most versatile precast concrete manufacturers. Its expansive product line includes items for stormwater, utility, septic tanks and retaining wall projects, just to name a few. An eye on innovation and sustainability has kept Shea Concrete above the industry fold and it has no plans of slowing down.
President and Treasurer Ed Shea, the son of company founder Ernie Francis Shea, took over the operation in 1975 and made his fair share of major decisions. Ed's wife Judi, who is also company co-owner and vice president, played a crucial role with Ed in making the tough decisions along the way. But one that still looms large is the acquisition of longtime competitor New England Precast in 1999. He says the company's employee base nearly doubled overnight while the Amesbury, MA facility provided over 30 acres of land.
"Things have changed and we've only gotten bigger since we acquired New England Precast in 1999," he said. "It was the best decision I ever made."
The pre-millenium expansion was followed by the purchase of the Rochester, MA plant in 2009. The plant specializes in the production of precast concrete buildings, engineered by Easi-Set Buildings. Manager Greg Stratis, entering his 20th year, has exercised an opportunistic approach when it comes to introducing new products and ideas.
"It's always been my philosophy to try new products and see that we're always ready to give the customer what they need," said Stratis. "We were primarily producing residential products until the recession hit, but now our commercial product line is a major piece to our success."
Shea Concrete also keeps a close eye on the next generation of the precast workforce. It regularly provides courses to help educate different generations of contractors on the ins and outs of precast concrete. Any time designers, engineers or contractors have a question about a specific project, Shea Concrete answers with plenty of feedback and advice.
"We have a lot of knowledgeable people on staff, so if someone calls looking for something, we can get them an answer right away or within a day or so. We try to help engineers when it comes time for them to design a project. If they need some input on what kind of precast options are out there, we can show them some drawings."
Eddie Lopez and AJ DiRocco were named the first Master Precasters of the National Precast Concrete Association (NPCA) in company history in early 2014. The fourth-generation precasters, also joined by Katelyn, are part of a longstanding family history as Ed and Judi's daughters -- Brenda, Kathleen, Mary and Nancy -- started working for Shea Concrete at an early age. Amesbury Production Manager Dave DeRose and Head Mechanic Tony DiRocco are son-in-laws of Ed and Judi.
The Amesbury plant has taken major steps in quality control to improve product tracking as International Coding Technologies (ICT) works regularly with Shea Concrete to test new product tracking devices. Shea Concrete currently utilizes ICT's "Cast-A-Code™" radio frequency identification tags (RFID) to transfer data and automatically identify and track the product.
"We've known the Shea crew for quite a while. Greg Stratis is a forward-thinking guy and gets how to leverage the business," ICT Founder/President Tom Tilson said.
Shea Concrete's focus on the environment made headlines last summer in the addition of 1,184 solar panels for its Amesbury location. The panels provide electricity for both the plant and offices.
"Shea Concrete decided to install solar panels in an effort to be an environmentally-friendly company. It was also very important to us to have the panels made in America," said Stratis.
About Shea Concrete Products:
Family-owned and operated since 1949, Shea Concrete Products is one of New England's largest suppliers of precast concrete products, serving both commercial and residential industries. As a National Precast Concrete Association (NPCA)-certified company, Shea Concrete's Rochester, MA production plant specializes in Easi-Set modular buildings.
Shea Concrete produces environmentally safe concrete products, including bulkheads side entry and standard steps. Serving all of New England, Shea Concrete is headquartered in Wilmington, MA, with additional locations in Rochester, MA, and Amesbury, MA.