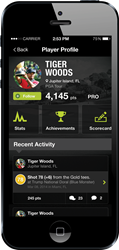 "When Rickie Fowler is ready to use Foursum - his profile will be there waiting for him to claim." - Foursum CEO and Co-Founder Matt Eldridge
Moncton, New Brunswick (PRWEB) June 12, 2014
Foursum, the all-in-one mobile app for golfers that allows golfers to manage their game while connecting with friends, announced today that they are rolling out their newest feature: reserved profiles for the top 50 players on the PGA Tour. This exciting addition to the app will compliment existing features such as in-app GPS, scorecards, and the option to set up games and compare stats with friends.
With the introduction of the reserved profiles, users will now be able to follow the scorecards of their favorite PGA players within the app, including crowd favorites such as Tiger Woods, Phil Mickelson, Adam Scott, Rickie Fowler, and Bubba Watson.
Unique to Foursum, users will have access to their favorite PGA player's scorecards from their smartphone, allowing them to follow their score, putts, fairway accuracy, driving distance and more. Users will also be able to browse each PGA player's stats from their most recent round to their stats over the last season, scorecards will be updated once players have completed their rounds.
"By integrating PGA Pro Profiles into Foursum, we're bringing golfers together - of all skill and experience levels. We've created a way for golfers to interact with the game - using our app to discuss their rounds, and the rounds of their favorite pros," explains Foursum CEO and Co-Founder Matt Eldridge. "And when Rickie Fowler is ready to use Foursum - his profile will be there waiting for him to claim."
Starting today, Foursum users will be able to compare their scores with those of their golf heroes. Whether you want to see if you can drive it long like Bubba Watson or hit as many greens as Tiger, Foursum makes it easy to connect with friends to share how you rank against the PGA's best.
Recently, Foursum announced a strategic partnership with COBRA PUMA GOLF. They have also been selected as the official statistics partner for the Maple Leaf Junior Tour. To learn more about Foursum and discover the new PGA branded profiles visit http://foursum.com/.