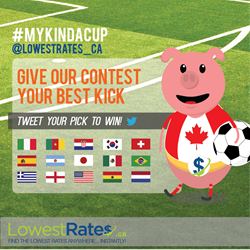 "There's nothing quite like the World Cup. We wanted to tip our hat to this month-long celebration of sport with our fun and free MyKindaCup Contest,"
Toronto, Ontario (PRWEB) June 11, 2014
With the World Cup kicking off this week, LowestRates.ca is celebrating the world's biggest sporting event with its MyKindaCup contest.
Between June 12th and July 4th, Canadians have the chance to win $300 in cash or prizes by correctly guessing the winning team of this year's World Cup in Brazil.
"There's nothing quite like the World Cup, so we wanted to tip our hat to this month-long celebration of sport with this fun and free MyKindaCup Contest," said Justin Thouin, LowestRates.ca's CEO.
To play, just Tweet or Share your team pick on Facebook or Google+ by using the hashtag #MyKindaCup @LowestRates_ca. And, if the team selected is eliminated before the Quarterfinal round, LowestRates will give you one more chance to win – simply make another pick and Tweet or Share it using the same #MyKindaCup hashtag posted to @LowestRates_ca account.
Contestants must submit their picks by July 4th to qualify for the draw. After the World Cup Championship team emerges victorious on July 13th, participants who made the correct selection will be entered in a draw to win their choice of $300 in cash or a gift card of equal value to Sport Chek.
"Three billion+ passionate soccer fans can't be wrong – with all the excitement, drama and athleticism of the World Cup, it's a tournament you can't help but follow," said Thouin.
In the spirit of competition, participants in the MyKindaCup contest are also invited to compare the most competitive mortgage, car insurance, and credit card offers available in Canada at LowestRates.ca – it's here that they'll be able to find mortgage rates as low as 2.25%, compare car insurance quotes from the top insurers, and browse an expanded credit card section with some of the best cards on the market today.
The LowestRates team invites soccer fans both new and old to come and celebrate the biggest, baddest, most raucous tournament in the world with the MyKindaCup contest. Remember, the contest – and the tournament – start on June 12th.
About Lowest Rates Inc.
Based in Toronto, Canada, and founded in 2012, Lowest Rates Inc., through its websites LowestRates.ca and LowestRates.com, provides a free independent online service that helps consumers compare personal financial products offered by North America's leading financial institutions. Lowest Rates Inc. helps people save time and money by allowing them to compare offers on mortgages, insurance and credit cards all in one place. Lowest Rates Inc. strives to become North America's leader in providing consumers with the necessary tools and unbiased information they need to quickly and conveniently find the right personal financial products for their unique needs.
For more information visit LowestRates.ca and stay connected by following us on:
Twitter (@lowestrates_ca)
Facebook (http://www.facebook/lowestrates)
Blog (http://www.lowestrates.ca/blog).
Contact Information
Media inquiries:
--> Justin Thouin, President and CEO
--> justin(at)lowestrates(dot)com
Online marketing partnerships and opportunities:
--> Cliff Ritter, CMO
--> cliff(at)lowestrates(dot)com