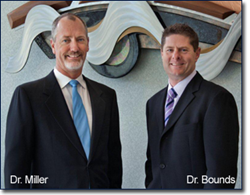 Irvine, CA (PRWEB) June 11, 2014
Periodontists, Dr. Todd E. Miller and Dr. Steven J. Bounds, now treat gum recession with the aid of The Chao Pinhole Surgical Technique (PST™) in their Irvine, CA practice, named Miller and Bounds. PST™ is a minimally-invasive procedure that gives satisfying results. Patients with receding gums usually notice immediate improvement and little down time. Miller and Bounds give patients the care they need to improve their smiles and their oral health.
At Miller and Bounds, the periodontists perform PST™ by making a very small hole in the gum above recession areas, and then use specialized instruments to move the gum so that it covers the exposed tooth roots. Prior to the development of this procedure, periodontists performed different types of invasive gum surgery to accomplish the same results. Now, Miller and Bounds save patients both time and discomfort because PST™ does not require cutting or stitches to treat receding gums. The technique is easier on patients and on their gums, so the process is typically smoother and reduces both bleeding and swelling.
Gum recession affects tens of millions of Americans, and many in Irvine struggle with the problem. Though it is a common problem, recession is serious; it leads to pain and tooth loss. Patients with receding gums often have poor nutrition because eating becomes progressively painful as recession advances. Hot, cold, and sweet foods irritate exposed tooth roots, and as teeth loosen they become sensitive to pressure and biting. Miller and Bounds use PST™ to reverse recession and the symptoms it causes. Patients usually notice improvement after a single visit, and because PST™ is minimally invasive, they forgo most of the swelling and pain that are associated with traditional gum surgery. Most patients return to their normal activities immediately following their PST™ appointments, and the minor discomfort involved in the procedure quickly vanishes.
PST™ is a viable answer for the many residents of Irvine who have gum recession. The periodontists at Miller and Bounds work with people of varied backgrounds, always with the goal of treating each patient as the individual that they are. For more information about Dr. Miller, Dr. Bounds, or their joint practice, please contact them by telephone or email.
About the Doctors
Miller & Bounds Periodontics Dental Implants is a periodontal practice providing personalized dental care for patients in Irvine, CA. Dr. Todd E. Miller received his Doctor of Dental Surgery from the University of California Los Angeles dental school, where he also served as a clinical periodontics instructor at the UCLA Dental School. Dr. Miller's partner, Dr. Steven J. Bounds, graduated from Creighton University School of Dentistry, where he received his Doctor of Dental Surgery degree in 1996. Dr. Bounds went on to complete his Certificate of Specialization in Periodontics at Ohio State University, where he also served as a clinical instructor to the university's dental students and contributed to biochemistry research efforts. Both doctors have extensive experience in all aspects of periodontal treatment, including dental implants, periodontal plastic surgery, gum and bone regeneration, and IV conscious sedation. Drs. Miller and Bounds are among the first group of periodontists and dentists in the country to undergo the training required to perform the Chao Pinhole Surgical Technique™, a new minimally invasive alternative to traditional gum grafting surgery. They also belong to the one percent of dental professionals currently providing the Laser Assisted New Attachment Procedure (LANAP®), the first FDA-cleared laser procedure for gum disease and periodontal treatment. To learn more about the dental services available at Miller & Bounds Periodontics Dental Implants, please visit http://www.millerandbounds.com or call (417) 889-5297.