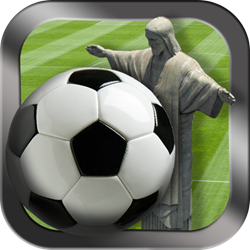 The Better Business Bureau is thrilled that this app will help soccer fans from all over the world avoid being scammed during World Cup. This trip might be a once in a lifetime opportunity and you want that memory to be good, not marred by a scam
Edmonton, Alberta (PRWEB) June 12, 2014
Scam Detector Inc announces the launch of BrazilSmart, a new mobile application that exposes in detail over 200 fraudulent activities that soccer fans could be victims of during the 2014 FIFA World Cup.
As Brazil has one of the highest crime rates in the world, BrazilSmart educates the tourists about dubious face to face approaches, accommodation scams, transportation traps, and airport fraud. New scams are added every day in the app.
"I want to help my fellow soccer fans because in 2010, while in South Africa at the last World Cup, I fell victim to a scam that at the time was almost impossible to avoid. Although I didn't lose my lifetime savings, I realized that tourists are the easiest people to trick, because their mindset is extremely vulnerable. They believe everything in a new country," says the app developer, Sorin Mihailovici. "I promised myself that I am going to research all the scams and expose them in one app."
In addition, BrazilSmart offers educational bits about all the host cities, over 600 attractions to visit during the World Cup, as well as a dictionary of the most common words in Portuguese. Users of the app can launch a search to see if they are about to be victimized, by inputting a keyword fitting the situation or the name of the city they visit. The content of the app is also translated in Portuguese.
"The Better Business Bureau is thrilled that this app will help soccer fans from all over the world avoid being scammed during World Cup. This trip might be a once in a lifetime opportunity and you want that memory to be good, not marred by a scam," says Ron Mycholuk, Public Relations Manager at BBB of Central Alberta.
BrazilSmart is available for $1.99US in the AppStore and Google Play. A video presentation along with screenshots can be found at: http://www.brazilsmart.co/media-kit.
Scam Detector Inc, based out of Edmonton, Alberta, Canada, was formed in 2011 by Sorin Mihailovici for the purpose of educating consumers of all industries about the worlds' most fraudulent activities. The Scam Detector mobile app was awarded with the Consumer Champion Award from the Government of Alberta in 2012.