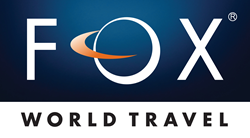 Oshkosh, WI (PRWEB) June 12, 2014
Fox World Travel, a premier global travel management company, was named Concur's Partner of the Year for Concur Expense at the company's annual Fusion conference. This award identifies Fox for achievement in Concur's Travel and Expense business solutions, providing commitment to the business traveler and to the corporate enterprise.
Lori Meress, Fox Vice President and General Manager of the Business Travel Division, stated, "We are delighted to be recognized by Concur for advocating a holistic approach to travel and expense management. Our innovative customization and consistently successful launches have resulted in meaningful cost and traveler process improvements while raising corporate compliance to a new level."
Fox World Travel, Inc. is a leading provider of travel management services, helping organizations succeed in building policies, compliance and financial advantages into their domestic and global travel programs. In addition to their Business Travel Division, they offer a variety of travel planning services through their Vacation Travel Division and Premier Meetings and Incentives.