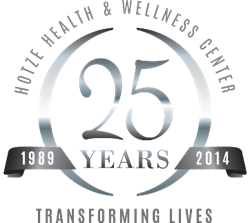 Houston, Texas (PRWEB) June 12, 2014
Hotze Health & Wellness Center (HHWC), a world leader in the alternative health care industry, is pleased to celebrate its 25th anniversary transforming lives, naturally.
"In 1989 I reached a pivotal turning point in my career as a mainstream physician," said Dr. Hotze. "One day one of my elderly patients told me that ever since she threw away all the medications I had given her, she felt like a million dollars! That was a huge wakeup call for me."
HHWC was founded on July 19, 1989, initially as an allergy clinic, by Steven F. Hotze, M.D., who is also the CEO of HHWC. Dr. Hotze practiced mainstream medicine for 13 years in emergency and general medicine prior to opening HHWC. Since 1989, HHWC has enabled over 30,000 patients to regain their health and vitality by listening to their health concerns and utilizing bioidentical hormones that restore their hormone levels, strengthen their immune systems, and increase their energy levels.
Led by Dr. Hotze, his medical team has over 100 years' combined medical experience backed by a staff of approximately100 caring professionals who provide an environment of hope and extraordinary hospitality for each patient. The team at HHWC feels that the best birthday gift they could receive this year is the satisfaction of serving so many patients and transforming their lives.
Here are the ways HHWC is recognizing its 25th anniversary:
"If I Had the Power" Campaign
This campaign asks: "What would you do if you had the power? If you no longer had any health or physical limitations, what would you strive for?" The campaign was a mission for people to empower each other. By writing down their dreams in a public forum, people are declaring that health no longer has to be an obstacle to achieving their goals. Visit the site at http://www.ifihadthepower.com.
"What I Believe" Video
In this powerful and passionate video, Dr. Steven Hotze shares how his Christian worldview and pivotal experiences have ignited a deep desire to offer the message of hope and optimal health to all who need to hear it. Watch the video at http://hotzeblog.com/what-i-believe-by-dr-steven-hotze/.
Documentary of Steven F. Hotze, M.D. on The Biography Channel
The documentary film of Dr. Steven Hotze aired on The Biography Channel on June 4, 2014. The film follows his journey from practicing mainstream medicine to practicing natural approaches to health. Discover what inspired Dr. Hotze to grow his medical practice to include the treatment of hypothyroidism, hormonal imbalances, yeast overgrowth and nutritional deficiencies at HHWC. To watch the film, visit http://www.hotzehwc.com/documentary.
"Now That You Have the Power" Campaign
This campaign is for the patients of HHWC to share their inspirational success stories of restored health to encourage others to take charge of their health, naturally. Beginning June 30, 2014, HHWC will release one health success story every day on http://www.hotzehwc.com.
For more information on Dr. Hotze and HHWC, visit http://www.hotzehwc.com.
About Hotze Health & Wellness Center:
Hotze Health & Wellness Center is leading the Revolution in Wellness™ care by changing the way women and men are treated through detoxification and bioidentical hormone replacement. Founded in 1989 by Steven F. Hotze, M.D., the Center has successfully treated more than 30,000 patients. In an effort to help patients obtain and maintain life-long health and wellness, physicians and registered nurses on staff address the root cause of symptoms, and correct health ailments naturally rather than merely masking symptoms with drugs. For more information, visit, http://www.hotzehwc.com, and on Facebook: http://www.facebook.com/HotzeHWC.