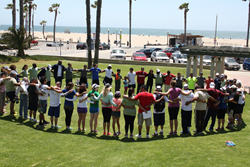 Los Angeles, Calif. (PRWEB) June 17, 2014
Jeffrey Stout, President of BlueSky Professional Services Group was elected to be the chairperson for Back on My Feet (BoMF) Greater Los Angeles. BoMF is a nonprofit organization that uses running to help those experiencing homelessness transform their own lives. "Residential Members" in the program (those experiencing homelessness) earn access to training, employment and housing resources through dedication and hard work. Attendance, mileage and attitude are tracked on every run.
Stout, who has been an avid runner for several years, said, "Running – whether short or long distance – brings out a sense of empowerment and accomplishment. When you combine this individual momentum with the support of a community, it's amazing to see how lives can be transformed. I'm honored to be a part of this organization."
Stout has been involved with the Los Angeles chapter of BoMF since its launch in late 2013. "Jeff has shown a tremendous amount of passion for this organization. We're fortunate to have him as the chairperson for the Los Angeles chapter," said David Walker, Executive Director, Back on My Feet Greater Los Angeles.
About BlueSky: BlueSky offers three distinct services that focus on recruiting and placing top talent. To learn more about BlueSky, visit their website, http://www.blueskypsg.com.
About Back on My Feet: To learn more about the mission, program and volunteering opportunities within the Los Angeles chapter of Back on My Feet, visit http://la.backonmyfeet.org.