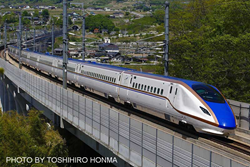 (PRWEB) June 16, 2014
Japan's train network extends to yet another corner of the country by the end of March 2015, this time connecting Tokyo to one of the most culturally rich regions of Hokuriku and Japan's adventure destination in central Honshu. Although this region has long been attracting culture- and culinary-savvy travelers, the Hokuriku Shinkansen bullet train's new train service from Tokyo, where the majority of foreign travelers arrive, certainly boast the area's appeal due to quicker and more convenient access.
Some aspects of these areas have been already made claim to fame. Lonely Planet, for example, has listed Hokuriku as one of its top destinations for 2014. The most enduring images of Hokuriku and central Honshu include the snow monkey, steep thatched-roof houses, Kenroku-en Japanese garden blanketed in snow, and the elegant yet mighty Japan Alps. Other highlights include traditional cityscape and arts and crafts throughout the region, legacies of powerful feudal leaders who supported and invested in the arts.
Another reason for the area's high level of Japanese craftsmanship and culture is its proximity to Kyoto. Not only did Hokuriku provide seafood and agricultural products to the old capital, but central Honshu was one of the major transportation routes to Kyoto, bringing cultural exchange in its wake. Today, the tradition of craftsmanship extends to contemporary products, such as the designated Nobel Prize Ceremony flatware from Tsubame City.
The new Hokuriku Shinkansen bullet train will reduce travel time between Tokyo and Kanazawa, the most popular destination in Hokuriku, by half to only about 2.5 hours. It will also provide faster access from Tokyo to other destinations like Takayama City, Niigata, Toyama, Ishikawa, Fukui and Nagano from Tokyo. Train operator Japan Railway Group has created exquisite designs and details both inside and out the new bullet train. With the futuristic and sleek design, the train is specifically designed to reduce noise and air pressure, minimize vibration and operate with a superior brake system. Its colors, blue and copper, are chosen to reflect the clear blue sky and the hue of the region's many crafts. Inside, train cars demonstrate Japan's Zen-like simplicity, compact but with a high level of functionality. In upper class cars, Hokuriku crafts' colors and materials have been selected to create a sense of place and enhance the traveling experience.
Together with the launch of Hokuriku Shinkansen, there are several new developments in the region's growing tourism industry to complement the many historic ryokan (Japanese inn) located at the region's many natural hot springs. Tokyu Hotels Co., Ltd., for example, one of Japan's major hotel chains, is putting the final touches on a renovation of their Kanazawa property, which will reopen in October 2014 under a new name, Kanazawa Tokyu Hotel. For more traditional experience, the UNESCO World Heritage village of Shirakawago/Gokayama welcomes general public to some centuries-old farmhouses for accommodation, offering the chance to experience daily life and hospitality in an authentic traditional Japanese village.
In 2015, you will be able to discover the new cultural heart of Japan as you zip along in the Hokuriku Shinkansen at speeds of up to 260km/h (161.5mph) between futuristic Tokyo and culturally rich Kanazawa, enjoying the magnificent scenery of the Japan Alps and stopping along the way at traditional gems in Hokuriku and central Honshu.