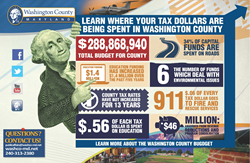 'We've taken a job-by-job approach with a focus on expanding economic development opportunities for our citizens,' said Sarah Lankford Sprecher, Washington County, Md. assistant county administrator.
Hagerstown, Md. (PRWEB) June 11, 2014
Under the guidance of the Washington County Board of County Commissioners, Washington County's unemployment rate has fallen to 6.4 percent in April 2014, down from 7.3 percent in March. Despite the challenging economy, the Commissioners are pleased to announce the 4.5 percent drop in unemployment under the current administration.
Over the past four years, County Commissioners collaborated with the private sector to create jobs and support expansion projects including Baltimore Mack, Duvinage, Dynamark Monitoring, Freightliner, Lehigh Phoenix, Parker Plastics, Pittsburgh Institute of Aeronautics, and Volvo Group, among others.
Since 2009, Washington County's median household income has increased by about 25 percent, raising the bar and incomes for Washington County families. The current income is $54,239 up from $41,984 (1). Washington County even out paces the national average for median income by 6 percent. According to the Washington County Economic Data Summary, the County has also seen a 9.5 and 2.5 percent increase in information tech and professional and business services jobs, respectively.
With unemployment decreasing, median incomes and County income tax revenues have increased over the past four years. With more citizens back to work, the County has seen an increase of approximately $6.5 million in income tax revenue and projections indicate approximately $2 million more in revenue for fiscal year 2014.
Strong fiscal management and positive economic development indicators also helped the County secure a AA+ rating from Standard & Poor's. A success managed despite the County's absorption of more than $46 million from revenue reductions over the past several years while maintaining all government services – without a County tax increase in 13 years.
Other promising economic indicators include the issuance of commercial permits – up 28 percent from 2012. More permits means many businesses are reinvesting in facilities and expanding to new Washington County locations.
Through the following initiatives, the current Board of County Commissioners have supported business and economic development success by:

Approval of a waste-to-renewable energy initiative to attract business interested in zero-waste
More than 80 local business visits as part of a weekly outreach initiative
Excise Tax Ordinance amendments to assist commercial and residential construction
Partnerships and free one-on-one consulting and training programs provided by the Western Maryland Small Business and Technology Development Center
Hagerstown Regional Airport marketing plan to surpass 10,000 enplanements and secure $1 million Federal Aviation Administration entitlement
Creation of a County project liaison, serving as a point of contact during the submission, review and permitting phase for commercial economic development projects
For more information regarding Washington County workforce and employment data, please contact Washington County Public Relations and Community Affairs at publicaffairs(at)washco-md(dot)net or 240-313-2380.
###
(1.) Source: U.S. Census Bureau, State & County QuickFacts
About Washington County, Maryland Government
Washington County, Maryland Government strives to fulfill its duty to the citizens of Washington County with regard to operational efficiency, fiscal responsibility, and responsiveness to the needs of the community. This vision is used to ably assist the Board of County Commissioners of Washington County in achieving goals for moving the County forward as present needs and future plans are addressed.
According to the Maryland Department of Legislative Services, the Washington County General Fund has one of the lowest costs per capita for services provided of all 23 counties and Baltimore City. This is attributed to the efficiency, staffing levels, and cost containment exhibited in Washington County Government operations. Visit http://www.washco-md.net for more information.
Get Connected and See Updates
Twitter: Tweet at us on Twitter @WashingtonCoMD
Facebook: Like us on Facebook at WashingtonCountyMD
YouTube: Watch on WashingtonCountyMD