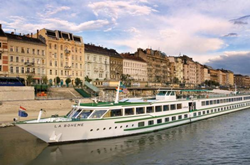 We are pleased to offer some different ships and cruise itineraries to our travelers.
Missoula, Montana (PRWEB) June 13, 2014
Europe is one of the most popular river cruise destinations offered by Adventure Life. The company is now featuring some additional ships and itineraries to this region of the world. This fleet includes the luxury vessels La Belle de Cadix, La Boheme, Michelangelo, and Van Gogh. Itineraries include ports of call in Italy, Spain, Portugal, France, Germany, the Netherlands among many other European countries. There are many exclusive characteristics of these itineraries. One such aspect is that their vessels dock at Honfleur in Paris, which is close to the Eiffel Tower and not a large industrial port. This fleet offers the only itinerary on France's Loire River, is one of only two operators in Venice, runs the only Amsterdam to Avignon cruise, and was the first fleet sailing in both Spain and Italy.
Adventure Life offers numerous river cruises, which are growing in popularity among discerning travelers. These trips provide cultural, historical, and natural insight all while offering an elegant mode of travel. Travelers have discovered the more intimate experience that river cruising offers, and many prefer this method over coastal trips. Some appealing aspects of these cruises are the small ship size, fewer passengers, convenience of a "floating hotel," and overall comfort of the vessels. Literally watch the world go by as you sail through it and gain intimate experiences with a destination that are not possible on the open waters of an ocean. Wine tastings, market browsing, walking tours, museum visits, and excursions to local attractions are just a few of the activities that one of these cruises may incorporate.
"We are pleased to offer some different ships and cruise itineraries to our travelers," said general manager Jonathan Brunger. "Guests will be gaining up-close experiences with their destination all while traveling in comfort."
The current rates for these cruises range from $615 to $2,280 per person with departure dates from June to November. To see the details of these itineraries, visit http://www.adventure-life.com/europe
To explore the world with Adventure Life, visit http://www.adventure-life.com or call 800-344-6118.
About Adventure Life:
Adventure Life is a company of travelers with a passion for sharing the world with others. Our travel experience runs deep, from years volunteering in rural Africa and Central America, to research trips in Asia, studying in Europe, guiding in the Rockies, and just bouncing around every corner of the world. This deep experience is the reason behind our pioneering approach to travel and award winning itineraries. For nearly fifteen years we have been creating personal itineraries that immerse our travelers in the vibrant colors of a place, leaving both our guests and hosts enriched by the experience. From our beginnings as a Latin America specialist, we now offer private journeys, small group tours, and expedition voyages throughout the world. We pride ourselves on our intimate knowledge of our destinations and our dedication to sharing the world.
Media Contact:
Sublime Public Relations
Steve Snyders