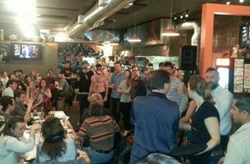 Waterloo, Ontario (PRWEB) June 11, 2014
Noise Pollution is a growing global urban problem. The World Health Organization (WHO) says "it seriously harms human health". An interesting statistic from the American Speech-Language-Hearing Association estimates that 30 million Americans are exposed to dangerous noise levels on a regular basis.
Noise pollution can lead to hearing loss, sleep disturbances, and fatigue headaches. Inside or outside communities are working to make changes. An interesting case study has recently happened in the restaurant industry.
Reducing Noise Pollution can be simple in small spaces. A good example is Taco Farm, an innovative restaurant in Waterloo, Ontario. It opened less than a year ago. It had delicious food, excellent service and a cool location, but customers and staff were struggling with the noise levels.
"We take feedback from our customers seriously," says Ryan Good, Taco Farm co-owner. "Taco Farm has a great atmosphere, but the sound was reverberating off the high flat ceiling making it very difficult to hear. Our staff were complaining about headaches and we knew we had to do something."
Ryan Good called Conestoga-Rovers & Associates, industry experts in noise reduction, Tim Wiens and Joey Jraige. Sound softening techniques are mostly used in large theatre spaces, but Wiens says more businesses and restaurants are looking to the engineers. "We are interested in designing smarter spaces, and sound is a big part of that."
The Conestoga-Rovers & Associates team used a sound technique that is traditionally used in theatre spaces to decrease the sound in crowded areas.
The acoustic absorbing panels reduced the reverberation time by 30%. Reverberation makes hearing incredibly difficult because an overlapping of speech sounds occurs. That significantly reduces speech intelligibility.
"The panels blend in with the hip décor at Taco Farm, and most people don't even notice them. What they will notice is that they don't have to shout to speak to the person next to them. We call it speech privacy," explains Tim Wiens.
The effect has been dramatic. "Our staff and customers noticed immediately. Anything we can do to make someone's dining experience better is great," says Ryan Good.
Additional info
World Health Organization (WHO) is just one of many groups that sounds an alarm about the dangers of noise pollution. "Excessive noise," the WHO warns on its website, "seriously harms human health and interferes with people's daily activities at school, at work, at home and during leisure time."
Andrew Coppolino, CBC food critic says it's a fine balance. "Quality of food, service and atmosphere work together to create a positive restaurant experience for diners. Too much noise can undo that experience, so restaurants, whether quick casual or fine dining, need to manage noise to a level that suits their individual style and ambiance."
According to yelp.ca and other online restaurant rating sites, customers include more than food when they rate a restaurant. Customers rate service and noise levels and it can affect the restaurants rating level. Zagat, an online restaurant site reported that the number two complaint people had about restaurants were noise levels. Service was first.
Contact info
Ryan Good, Taco Farm 519.573.2687 rgood(at)cabri-management(dot)com
Tim Wiens, Joey Jraige, Conestoga-Rogers & Associates 519-884-0510 twiens(at)craworld(dot)com, jjraige(at)craworld(dot)com