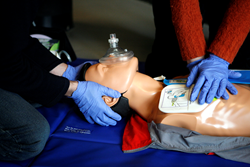 (PRWEB) June 11, 2014
Dr. Karl "Fritz" Disque, executive director of the Disque Foundation and an associate board member of the American Heart Association (AHA), will hold a Hands-Only CPR class at Ronald McDonald House (RMH) near Lurie Children's Hospital for its staff, volunteers and the families staying there. The class will consist of an exciting presentation and hands-on training with the aid of mannequins.
The AHA's Hands-Only CPR is cardiac pulmonary resuscitation without mouth-to-mouth breaths. It is designed for people who see a teen or adult abruptly collapse in an "out-of-hospital" setting, such as in a park or at work. It involves 2 easy steps:
1. Call 9-1-1.
2. Push hard and fast in the center of the chest.
As simple as this sounds, there are techniques that are learned to create high-quality chest compressions and there are scenarios that need to be identified to know when to use this method over conventional CPR with mouth-to-mouth breathing.
Ronald McDonald House is determined to enhance the health, well being, and education of children. Dr. Disque works closely with the American Heart Association to inspire healthier living and fight cardiovascular disease and stroke. Ronald McDonald House cares for families of children with complex medical needs, by providing comfort, compassion, and a sense of community. Dr. Disque and the Disque Foundation work continuously with the vision, mission, and values of RMH to support and encourage others to save lives and stay inspired with the Save a Life Initiative.
About The Disque Foundation
The Disque Foundation is a nonprofit organization with the mission of advancing health care education to the underserved both domestic and abroad. The Foundation works closely with National Health Care Provider Solutions (NHCPS) to increase their efforts and provide education to those with the greatest need. Members of the Foundation have previously contributed to efforts in areas such as Haiti, Ethiopia, Costa Rica, Panama, Malaysia, and the United States.
For more information please visit nhcps.com or disquefoundation.org.