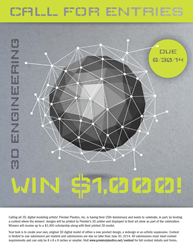 I wanted to get involved with Utah students because they are so very important to the future of this industry.
Salt Lake City, Utah (PRWEB) June 16, 2014
Premier Plastics is hosting a 3D Digital Design Contest for Utah college and high school students in Engineering programs. As part of their 25th anniversary celebration, Premier Plastics wants to get involved with the community in a meaningful way. Providing scholarship opportunities for local students, through a contest that relates to Premier Plastics' business, is the perfect chance to give back and educate students about career possibilities. Students will create a 3D digital design with the goal of being printed on Premier Plastics' high-tech 3D printer. Winning submissions will be printed and displayed at Premier Plastics 25th Anniversary Gala in July before being returned to the student. Scholarship amounts of $1,000, $500, and $250 will be awarded to winners from both the college and high school divisions.
The purpose of the Premier Plastics 3D Digital Student Design Contest is to recognize the achievements of Utah engineering students and to increase community involvement with student engineering programs. The Student Design Contest is open to all students enrolled full time in high schools, colleges, community colleges, universities, trade schools, and professional schools (Design, Architecture, etc.). "I wanted to get involved with Utah students because they are so very important to the future of this industry," said CEO of Premier Plastics, Jim Holbrook. "Offering them a chance to work with advanced technology, that will someday be commonplace in our industry, is a great opportunity to play a part in shaping our future talent."
Students who are interested in entering the Premier Plastics 3D Digital Design Contest can submit their entries and download rules and regulations at http://www.premierplastics.net/contest. All entries are due by June 30, 2014. Submissions can be uploaded to http://www.premierplastics.net/contest starting June 15, 2014.
About Premier Plastics
Premier Plastics, Inc. is a full service packaging and custom thin-wall thermoforming manufacturer that offers full-service packaging to the retail and commercial markets. Manufacturing includes full-service clamshell packaging, blister packaging, point of sale displays, shipping trays, medical and dental trays, POP displays, covers and housings. Along with its state-of-the-art production capabilities, Premier Plastics offers complete or partial assembly and fulfillment of products and packaging. With a wide assortment of plastics, Premier Plastics can satisfy most any application imaginable. Recycled materials are used in many packaging applications. Food and Drug Administration (FDA) approved materials are used for food handling applications. Premier Plastics also has approved materials needed for medical and dental packaging applications. Anti-static plastics are available for the electronic industries. Fun Fact: Premier Plastics processes 3.5 million pounds of plastic per year, and recycles over a million pounds of plastic per year. For more information about Premier Plastics, visit http://www.premierplastics.net/ or call 801.975.0133.