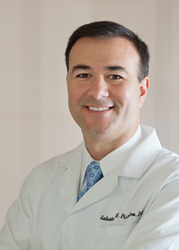 With the combination of the latest technology and insurance coverage making these procedures more accessible, more and more people will be able to get help for their sleep apnea condition. - Dr. Pizzino
Fairfield, CT (PRWEB) June 19, 2014
Fairfield CT Dentist, Dr. Salvatore Pizzino, recently attended the Connecticut State Dental Association's 149th Annual Charter Oak Dental Meeting. The CSDA Annual Meeting encourages professional growth and for dental professionals to come together for continuing education and networking. The conference highlighted the latest technologies and treatments for sleep apnea disorder.
Dr. Salvatore Pizzino, Fairfield CT dental practitioner, explains sleep apnea as "a sleep disorder that occurs when one's breathing is interrupted during sleep. Those affected by sleep apnea may stop breathing many times during their sleep. This means that the body and brain may not get enough oxygen". Research shows many people suffer from sleep apnea and may be unaware that they have it.
For years Dr. Pizzino has worked to help those experiencing this condition. He aims to bring awareness to those who suffer from this disorder and inform patients that Southport Family Dental can help treat sleep apnea.
To further this initiative, Fairfield CT Dentist Dr. Pizzino will begin offering at-home sleep studies to better understand a patient's problems while sleeping. The home sleep testing program has opened the door for increased diagnosis resulting in more patients receiving the proper medical care they need. Treatments for couples with disrupted sleep cycles due to sleep apnea is very important to Dr. Pizzino. "Helping individuals and couples get a better night's sleep is extremely important to me," says Dr. Pizzino. "With a better night's sleep my patients are more refreshed and able to live happier lives."
To continue helping patients and make treatment more affordable, Southport Family Dental understands the medical insurance coverage needed for these procedures. "With the combination of the latest technology and insurance coverage making these procedures more accessible, more and more people will be able to get help for their sleep apnea condition," Dr. Pizzino said. With better prices, and more awareness of this condition, patients can now get more help than before.
Dr. Pizzino has been treating patients in Southport since 1995. He is a graduate of New York University, College of Dentistry. His extensive background in postgraduate education includes training at the L.D. Panke Institute and The Dawson Academy as well as fellowships in general dentistry, orthodontics and implant dentistry. He has been a CT Invisalign Premier Provider since 2009 as well as an Invisalign guest lecturer. In addition to being past president of the Bridgeport Dental Association, Dr. Pizzino serves on the CT State Dental Association Board of Peer Review. He is also a member and fellow of the Academy of General Dentistry, American Academy of Functional Orthodontics and the International Congress of Oral Implantology, and a member of the American Dental Association (ADA). Dr. Pizzino and his associates enjoy attending conferences to stay up to date on the latest technology and developments in the dental world. Learning about current trends and treatments allows them to provide the best patient care to those in Fairfield County.
About Southport Family Dental
Southport Family Dental is a Fairfield County practice dedicated to making its patients feel comfortable while providing them with quality dental services in a relaxed, modern and caring environment. Dr. Salvatore Pizzino and his associates are passionate about giving patients new reasons to smile by focusing on the long-term health of their teeth and mouths and the aesthetic beauty of their smiles. From routine exams, cleanings and fillings to Invisalign, restorative work and cosmetic services, the entire staff at Southport Family Dental aims to exceed the expectations of their patients at every visit by taking the time to listen to their needs and never compromising on quality.