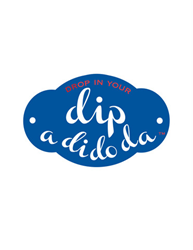 No More Labels on the Table
Richmond, VA (PRWEB) July 09, 2014
Myrf Bowry and Leah Dodge—the dynamic duo behind 20-year old Richmond interior design firm, Decorum, Inc.—have added tabletop decorating to their already impressive set of design skills. Their firm was just voted Top Interior Design Firm in Central Virginia, by Virginia Living Magazine.
The duo loves entertaining, and one night Myrf had surprise guests in town and invited them over for drinks. Unfortunately, she didn't have time to whip up any appetizers from scratch, but she did have some store-bought hummus in the fridge. She threw together some nibbles, and scooped the hummus into a bowl.
This got her thinking.
What if she had some kind of camouflage for the store-bought container? Something you could just drop your dip in? It would save time, look cute, and make for a quick clean up. She and Leah did a lot of research and could not find anything on the market. So they created their own solution. From the fridge to the table, just "Drop in your Dip".
Launched during the 2013 holiday shopping season, the first-run patterns were a huge success. Through grassroots marketing and word of mouth, the ladies have already taken Richmond by storm, selling a ton and getting them into a number of stylish Richmond boutiques. Now, looking to expand nationwide, they have launched their webstore at http://www.dipadidoda.com. They are hoping to be in boutiques nationwide soon. New patterns and colors are already in the works and expected by late summer. Plans to expand the line are on the drawing board as well.
Consumers or retailers interested in learning more about Dip a Di Do Da, or Decorum, Inc. can visit http://www.dipadidoda.com, or on https://www.facebook.com/dipadidoda. For inquiries, call Decorum, Inc. at 804-282-9900.