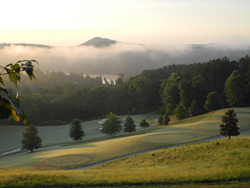 Summer Events in the Upstate of South Carolina
Greenville, South Carolina (PRWEB) June 12, 2014
At The Reserve at Lake Keowee, folks don't have to travel beyond the neighborhood for fun activities, warm social gathering or get-togethers with family, friends and neighbors. Here's what members can expect to enjoy at The Reserve at Lake Keowee this summer:
Mondays:
Tennis (Open Play) 9am-12pm. All levels of play welcome!
Water Aerobics 9am (Every Monday and Friday)
Ladies Bridge 1:30 (Intermediate)
Tuesdays:
Kayaking 8:30am for beginners to advanced paddlers. All equipment is provided
Massages 9am-1pm by appointment (at least one day in advance)
Pickleball 10:00 all levels! Come learn a new, fun sport!
Yoga 10:30
6:30pm Gourmet Pot Luck at The Village Market
Wednesdays:
Golf – Men's Play Day begins at 9:00am
Tennis with the Pro starts at 9:00am
Co-ed Strength Training starts at 9:00
Thursdays:
Golf – Ladies Play Day begins at 8:30am.
Pickleball starts at 9:00am.
ReserveFit, similar to CrossFit, also starts at 9:00am.
Fridays:
Pickleball starts at 9:00am
Water Aerobics starts at 9:00am
Yoga starts at 10:30am
Golf- Dog Fight on the Course starts at 12:00pm
Sundays:
Community Breakfast Buffett from 9am to 1pm
Reserve Worship at 10am. This is a non-denominational worship service.
Tennis Round Robin at 11:30am
In addition to these events, the community hosts Artists in Residence, charity golf tournaments and much more. Downtown Greenville South Carolina continues to make a name for itself as transforms itself into an exciting walking city filled with art galleries, delicious restaurants and Falls Park on the Reedy.
Here's what's happening in downtown Greenville in June:
June 5-8 - The Upstate Shakespeare Festival
June 11, 18, & 25 - South Carolina Blue Reedy River Concerts
June 13, 20 & 27 - Heritage Main Street Fridays
June 19 & 26 - Downtown Alive Weekly Music Concert Series
This makes for intriguing day trips for the gated Lake Keowee community but when property owners feel a dose of laziness, the amenities at The Reserve at Lake Keowee reminds folks that its quite okay to live on staycation inside the neighborhood at one of the most beautiful Western South Carolina lakes.
Closer to home, on June 13th, the Westminster Music Hall just south of The Reserve at Lake Keowee presents the West End String Band at 8pm. The address is 101 W. Main St., Westminster. Tickets are $10. The next day is the 2014 Lake Keowee Poker Run is from 11 a.m.-5 p.m. starting at Lighthouse Restaurant, Keowee Cabana Club, 1290 Doug Hollow Road, Seneca. The cost is $20 a hand.
But not everything is a gamble, some things are much more of a safe bet. Take the farm to table movement, popular now for making meals with locally grown ingredients, directly from the field to your table. The movement is a hit for several reasons. Eating food straight from the field tastes better and healthier. The fresher the ingredients are – the better the meal is. Add a beer and wine tasting and you can't lose! That's what's happening at Greenbrier Farms in a special evening to remember on June 9th. That's just one of the side trips kicking off this month for residents at The Reserve at Lake Keowee.
There are fun events held throughout the month at the gated Lake Keowee community of The Reserve including the 'secret' tradition of incredible pot luck dinners at The Village Market on Tuesday nights. Regrettably, they don't all involve food and wine. Some are family-focused activities. Others involve fitness like tennis, golf and swimming. Amenities at The Reserve at Lake Keowee include 24-hour manned gated entrance, 18-hole championship golf course designed by Jack Nicklaus, 20,000 square foot golf clubhouse with dining, lakefront pool complex & grill, resort-style outdoor swimming pool and jacuzzi, four lighted tennis courts, fitness center, 5 ½ miles walking trails, community parks, 200 boats slips and marina, and the Village Market. Real Estate Scorecard finds Lake Keowee to be one of the finest Western South Carolina lakes to call home.
Take a peek at The Reserve at Lake Keowee homes.
Buyers searching for refined country club living in the cool Blue Ridge Mountains with outstanding lake and golf amenities should contact The Reserve at Lake Keowee to check on Discovery Package availability. This is the best way to experience the award winning neighborhood up close and see their new lakefront cottage models.
Call The Reserve at Lake Keowee direct at 877.922.5253.
About Real Estate Scorecard:
Real Estate Scorecard writes unbiased real estate reviews providing in-depth information about popular gated communities in Florida, Georgia, North Carolina, South Carolina and Tennessee, all in an effort to help people discover where to retire in the Southeast.
Website: http://realestatescorecard.com