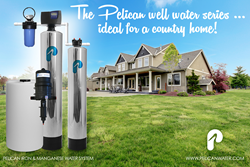 Deland, Florida (PRWEB) June 12, 2014
Pelican Water Systems, the market leader in environmentally friendly, affordable whole house filtration systems for well systems, has received high acclaim recently from well water customers who have had their tough well water problems solved with a Pelican product, including heavy duty systems for sulfur, iron, bacteria, and nitrate contamination.
Customers in the last month have written to Pelican, praising their products' ability to eliminate well water problems and to provide their homes with tasty water at last.
One customer wrote regarding Pelican's Iron and Manganese Water Filter: "This product has performed beyond expectations. The iron has disappeared from my drinking water and the toilets are free from the ugly iron stains. The service is excellent; in fact they helped me install the complete system and I had no prior experience. Great company to deal with and they shipped this product ASAP."
Pelican Water offers a myriad of practical and affordable solutions for the toughest well water problems, and has provided thousands of well customers across the US with comprehensive water treatment systems that provide the home with tasty, spring-like water. Some of Pelican's proven solutions for well water that have received strong customer praise in recent months include:

Sulfur Water Filter System: Few things are worse than well water that smells like rotten eggs. This filter system eliminates most hydrogen sulfide, as well as odor, leaving tasty, purer water at the tap.
Iron and Manganese Water Filter and Salt-Free Softener: These elements can plague a well, and lead to stained clothes and rusty tasting water. Pelican offers several affordable filtering solutions to remove iron and manganese, combined with a salt-free softener that eliminates hard water without harming the environment.
UV Disinfection Systems: Kill 99.99% of bacteria in a well without chemicals.
Nitrate Reduction Water Filter: High levels of nitrates can leach into a well and cause health problems. This system features a 32,000 grain capacity and ensures that a family's drinking water is safe.
Water Test Kits: The first step to solving well water issues is to have well water tested for bacteria and pesticides. Pelican's affordable water test kits will determine if any contaminants exist in the water.
Pelican also has water treatment experts available to help you determine the best treatment plan for your well water system. Please contact Pelican Water Systems today to get started on the path to affordable, tasty and purer well water.
About Pelican Water Systems
PelicanWater.com is the official, factory-direct retail website for Pelican Water Systems, providing professional knowledge and leading technologies for complex well water problems, as well as water filtration and salt-free water softening and conditioning systems for both city and well water.
Pelican Water products use cutting edge technology and enable customers to go green by eliminating wasteful and harmful salt brine discharge that is polluting our scarce fresh water supply. For over two decades, Pelican Water has been the global market leader in salt-free water softening systems, and our mission remains to be the world's premier water solutions company through the development of premium, innovative, and environmentally responsible products and our unsurpassed commitment to integrity, passion, and exceptional customer service.
For more information about Pelican Water Systems, visit PelicanWater.com.