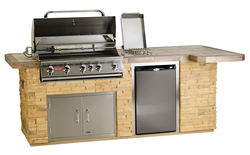 There is so much value in these islands, grill carts and components, and the quality simply cannot be beat.
Mahopac, NY (PRWEB) June 12, 2014
Best in Backyards, the experts in outdoor rooms, is partnering with Bull Outdoor Products to bring a new line of outdoor kitchen islands, barbecue grills and grill components to its six superstores in Connecticut and New York.
After entering the outdoor kitchen market in 2013--two years after Best in Backyards positioned itself as the authority in outdoor rooms with its selection of elegant and functional pergolas, pavilions and gazebos--the company discovered through market research that there had been a surge of interest in outdoor kitchens and the like. Looking to gain market share and expand its offerings for retail consumers, Best in Backyards saw the partnership with Bull as a natural next step for the growing business.
The new items on display at Best in Backyards locations include islands with grills, refrigerators, rotisserie motors, storage and electric outlets (plus plenty of stucco, stone and tile options); grill carts that offer choices in terms of cooking power, number of burners, lighting options and more; and grill head components for customers who are designing their outdoor kitchens from scratch.
"We are so pleased to have such a fantastic line of outdoor kitchen products in our stores," said Best in Backyards Vice President of Sales Rolf Zimmermann. "There is so much value in these islands, grill carts and components, and the quality simply cannot be beat."
These outdoor kitchen islands come fully assembled, so the team of professionals at Best in Backyards is able to install them in just one day, without the need for a contractor or a time-consuming planning process. In addition, Bull Outdoor Products' production time allows for customers to receive islands as quickly as possible.
Best in Backyards also carries Bull accessories (cleaners, tongs, pans, racks, woks, skewers, meat thermometers, smoker boxes and more) for those looking to master the art of outdoor cooking. Scott Honigsberg, one of the co-owners of Best in Backyards, made great use out of the pizza stone at the first Bull Burger Battle of 2014, held at the Mahopac, NY location. It was a great day filled with competition, food tastings and Bull product demonstrations. The winner, Skip Day, took home a premium outdoor Angus Bull grill, valued at $2,500, and is headed to Las Vegas to compete in the World Food Championships. Talk about a great way to kick off the grilling season!
--
About Best in Backyards
Best in Backyards is the retail division of Eastern Jungle Gym, a leading manufacturer and supplier of wooden swing sets for 22 years. Best in Backyards superstores offer swing sets, storage sheds, trampolines, retractable awnings, outdoor kitchens, pergolas, pavilions, gazebos, playhouses, cupolas, basketball systems and pool houses. There are six locations in Connecticut and New York.