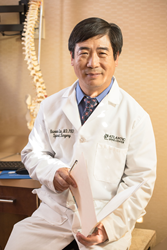 Not All Spine Problems Start with the Spine
Edison, NJ (PRWEB) June 12, 2014
Dr. Kaixuan Lui, a doctor at Atlantic Spine Center, has been identifying and treating the effects of abnormal spine curvatures for over a decade. He has seen repeated cases verifying that lower back problems do not always begin exclusively within the structures of the spine.
An unsuspecting cause of mild to moderate spine curvatures has been found in people who have legs that are just slightly different in length. A surprising fact is that the majority of the population has some degree of uneven leg length. An indisputable "limp" usually does not develop unless the length discrepancy is greater than two centimeters and, in most cases, the difference is less than this. With milder cases the body just compensates. The hips will tilt and the spine will gently curve for further balance and to attempt to create the best symmetry. This causes little to no notice to the individual because, after all, they have been doing it intrinsically and probably unknowingly since they were a child.
Unfortunately, this silent compensation speaks up in adulthood. As early as in their 20s, an adult may start noticing nagging lower back pain on occasion that slowly gets more persistent over time. Symptoms finally warrant an exam, and the person is ultimately diagnosed with something like bone spurs, a progressive disease caused the curvature they didn't know existed all those years.
So if the discrepancy is not obvious, how can it be prevented? Careful visual inspection of the spine and pelvis while in a standing position is a good place to start. It may not present itself as an obvious deficit, but if the hip seems like it holds a slight twist or tilt to one direction or the shoulders are not horizontally aligned, this may be an indication. Many chiropractors and other back specialists also have a body charting tool called a posture test. This standing test will show drops in line symmetry if the spine is abnormally curved. If a curvature is suspected, x-rays of the spine and hips should be considered. A spine curvature and a tilted hip or "pelvic obliquity" can be easily identified by an x-ray.
If a low grade case of leg length discrepancy is found and is causing problems in adulthood, it can be very often offset by simply a doctor recommended shoe insert or heel lift. This corrects the length error that is affecting body symmetry and provides simple solution for the deficit.