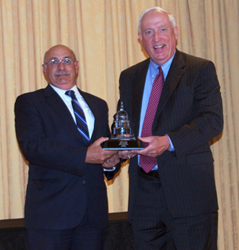 ARTBA and its members are leading a national discussion that ultimately must establish a vision that move us forward with adequately addressing our aging transportation system.
Washington, D.C. (PRWEB) June 11, 2014
Yesterday at the American Road & Transportation Builders Association Transportation Development Foundation Awards, HNTB and its leadership were recognized for outstanding contributions to the industry and its clients.
Paul Yarossi, PE, president of HNTB Holdings Ltd, was presented with the 2013 "ARTBA Award," the association's highest honor. Established in 1960, the award recognizes individuals for outstanding contributions to the industry that have a measurable impact on ARTBA's long-term goals. Previous recipients have included several governors, more than 25 U.S. senators or representatives, two U.S. secretaries of transportation and dozens of top leaders and executives from government and the private sector of the transportation construction industry.
Yarossi received the honor for more than 40 years at HNTB and his numerous contributions to ARTBA in various volunteer leadership roles, culminating as chairman in 2012. He first joined HNTB in 1973 after graduating with a civil engineering degree from Manhattan College. Yarossi directs the HNTB's governance, capitalization strategy, compliance and audit functions, as well as its external and government relations.
"Simply contributing to ARTBA has always been an honor, and I'm grateful for and humbled by this special recognition," Yarossi said. "ARTBA and its members are leading a national discussion that ultimately must establish a vision that move us forward with adequately addressing our aging transportation system and ensuring the kind of modern infrastructure we need for a prosperous future."
Previously, he was chair of HNTB's aviation practice, and officer-in-charge for several HNTB offices in New York and New Jersey. He also has been instrumental in formulating the firm's training and development programs.
His ARTBA contributions include playing a key role representing the association in the July 2012 passage of the two-year Moving Ahead for Progress in the 21st Century Act, the most recent federal surface transportation law, and his establishment of a subsequent initiative, ARTBA's Trans2020 Task Force, to prepare for the next reauthorization bill, now being discussed and debated in Congress.
Yarossi also serves as vice chair of the American Council of Engineering Companies' Transportation Committee, is on the executive committee of the Design Professional Coalition and is a member of the U.S. Chamber of Commerce "Let's Rebuild America Leadership Council," The Council on Competitiveness and the Airports Council International.
The ARTBA Foundation also presented HNTB Corporation a Globe Award in the "Major Highways" category for the 495 Express Lanes project near Washington, D.C. Partnered with Fluor Corporation and Lane Construction Corporation, HNTB acted as lead designer on the project, which improved a crucial stretch of Interstate 495 in Northern Virginia, one of the most congestion roadways in the nation.
Aiming to reduce congestion, present travel choices and enhance multimodalism, HNTB produced designs for four new express lanes, driven by an open road, dynamic tolling system, as well as 12 interchanges, new or replacement sound walls, retaining-wall and tolling infrastructure, and additions or reconstructions to 57 bridges. The $1.6 billion venture finished $100 million under budget and one month early and efficiently maintained daily traffic of about 220,000 vehicles through the construction zone.
HNTB also received a PRIDE Award in the "Education" category for a training program it has co-sponsored during the District Department of Transportation's 11th Street Bridge project, DDOT's largest project to date and one for which HNTB has served as the department's construction manager. The 11th Street Bridge project is critical to improving travel and achieving the larger vision of the Anacostia Waterfront Initiative by replacing two aging and structurally deficient bridges with three new bridges that separate local and freeway traffic.
The 11th Street Bridge Construction Management Training Program has provided field-service and classroom instruction to minorities, women and disadvantaged District of Columbia residents interested in highway construction careers.
During the rigorous field-service portion, students worked with DDOT and its partners on the project – HNTB and the Federal Highway Administration – to develop job skills based on the innovative design and construction methods that were utilized. The program gave students the opportunity to earn certifications in concrete, soils and aggregate compaction, safety and flagging.
FHWA DC Division Administrator Christopher Lawson praised the course's success. "Congratulations to DDOT, HNTB and Skanska Facchina for demonstrating leadership in providing skills development and sustainable career opportunities in the highway construction sector," he said. "The 11th Street Bridge Construction Management Training Program has proven to be an effective use of both public and private sector resources."
About HNTB
HNTB Corporation is an employee-owned infrastructure firm serving public and private owners and contractors. Celebrating a century of service, HNTB understands the life cycle of infrastructure and addresses clients' most complex technical, financial and operational challenges. Professionals nationwide deliver a full range of infrastructure-related services, including award-winning planning, design, program delivery and construction management. For more information, visit http://www.hntb.com.