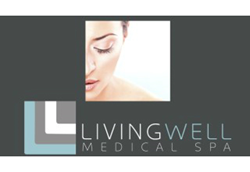 This procedure has no downtime; patients leave and return directly back to work.
Portland, Oregon (PRWEB) June 17, 2014
Beaverton based aesthetic clinic Living Well Medical Spa, recently added Intense Pulsed Light using the Palomar Starlux® laser system to their already expansive service options.
The Palomar Starlux® laser system is the most advanced Intense Pulse Light technology system available for aesthetic applications and recognized as the Gold Standard in pulsed light technology.
Intense pulsed light (IPL), also called flashlamp therapy, is a non-invasive and non-ablative treatment that uses high intensity pulses of visible light to improve the appearance of common skin problems including vascular lesions such as spider angiomas, port wine stains, and rosacea. IPL is also commonly used in the treatment of acne, freckles, age spots, facial lines and wrinkles, and the removal of unwanted dark hair.
The fast, comfortable, and effective IPL treatments work similarly to lasers in that energy is absorbed into the treatment area causing impaired cells to rise to the surface, and peel off, leaving behind healthy and evenly toned skin.
"IPL is a wonderful way to cause comfortable skin changes and with multiple treatments, collagen stimulation. This procedure has no downtime; patients leave and return directly back to work. They see beautiful results within the first week and optimum results with a series of 3-6 treatments," explained Clinic Manager, Dr. Lani Doser, DNP, FNPc .
Living Well offers a special price of $249 to all first time photofacial clients.
Living Well Medical Spa is dedicated to providing technologies that help patients reveal the most healthy looking skin using safe and clinically proven technologies and products. Their highly trained staff provides services that include effective treatments such as Botox/Xeomin, a variety of dermal fillers, Dermapen micro needling, chemical peels, LED light therapy, microdermabrasion, and the newly added IPL services.
About Living Well Medical Spa
Based in Beaverton, Oregon, just west of Portland, Living Well Medical Spa is comprised of highly trained staff and medical professionals with a special focus in aesthetic medicine. The medical spa specializes in treatments that improve skin texture, tightness, and appearance. Their passion for superior results and providing a comfortable and compassionate atmosphere has made them a premier medical spa in the area. For more information about Living Well Medical Spa and their services, please contact Dr. Lani Doser by phone at 971-327-4365 or by email at lanid(at)livingwellmedspa(dot)com or go to http://livingwellmedspa.com/.